Health professionals such as nutritionists and dietitians, despite having different roles in their own professional fields, have jobs that heavily rely on the data their clients and patients provide. Managing that data is crucial for any professional, even more so when it is the most important information to base a health treatment on. NutriAdmin is a professional nutrition software that is able to collect, process and easily export almost any kind of information a health professional needs while saving time, money and hassle.
In this article, we will talk about the main features and tools that NutriAdmin can provide to make your job easier and more productive while maximizing all your resources and expertise.
Client records – CRM
NutriAdmin's Client Relationship Management is a system that allows professionals to store their clients Electronic Health Records in an efficient, easy and safe way. Being hosted by a HIPAA-compliant cloud means that you will be able to securely access your account from any device. Also, your data will be automatically backed up so it can always be recovered in case an accident happens.
In terms of customization, our client records –all of our features, actually- are fully adaptable to your needs, allowing you to either create fields from scratch or use pre-built forms. When filling up a client record for the first time, half of your job will be done just by ticking boxes, so you can save time and still pay full attention to your clients during a consultation. All the information, questionnaires and reports will be easily accessible once you save the data, allowing you to go back, update and keep track of any information you want as your client base grows.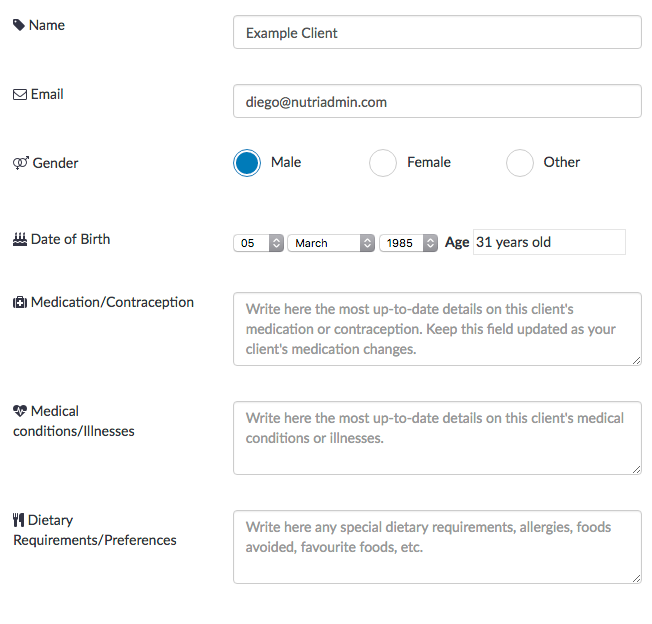 Meal plans
30 seconds. That's all you could spend creating your next client's meal plan. Choose a diet between our many options (Paleo, Ketogenic, Mediterranean, etc), macronutrient content and allergens or other food items to avoid and the software will create a personalized diet that can also include step-by-step recipes.
As well as with the client records, this feature is fully customizable so you can always adapt it to your patient's needs. The system will work out all the nutritional analysis for you and you will be able to save, archive and export the results.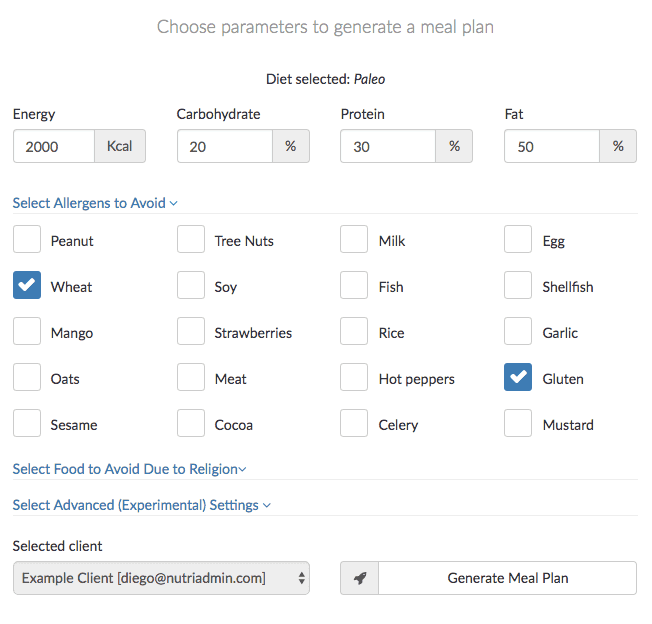 Questionnaires, online payments, calendar and more
NutriAdmin aims to cover the whole process since a client contacts for the first time until a diet or meal plan has been created for them and they leave home until the next session.
Using the multiple online client questionnaires available, you will be able to collect all the information you need from your clients, customizing and sending the forms with one click and easily incorporating them afterwards to your database, again saving time as well as offering an easy method for your clients to communicate with you.
The calendar and reminders feature will synchronize all your patients' bookings digitally, so you can also have your calendar and different working schedules in the same system, let your clients book their appointments online and send them personalized reminders for payment, follow-up consultations, etc.
Finally, and among many other features you can check more thoroughly here, NutriAdmin has also an online payment infrastructure powered by Stripe. Bill your clients with one click, request payments and keep track of your income –everything within an easy, safe and transparent professional product that has already been tried by more than 5000 users around the world.