We have reworked the meal plan generator with this major update and it has never been this good. You can now generate a meal plan in 30 seconds by specifying as many of the following criteria as you want:
Calories
Protein/Fat/Carbs
Diet (we have over 30 diets so far and we'll add more)
Cuisine (e.g. Italian, American, Middle Eastern, Chinese)
Region (e.g. UK, North America, India, etc so that you only get ingredients commonly available in your region)
Intolerances
Ingredients to avoid
Cooking time (e.g. recipes taking 20 min to prepare max)
Whether to include/exclude exotic ingredients or stick to simple ones
Cooking equipment (e.g. no oven/crockpot recipes but include pan/pot based recipes)
Meal types (e.g. breakfast, main, snack, dessert, drink in any combination)
and more!
Not only the generator is powerful and allows you to choose from many options. The recipes the generator uses all look and taste amazing, see some examples below.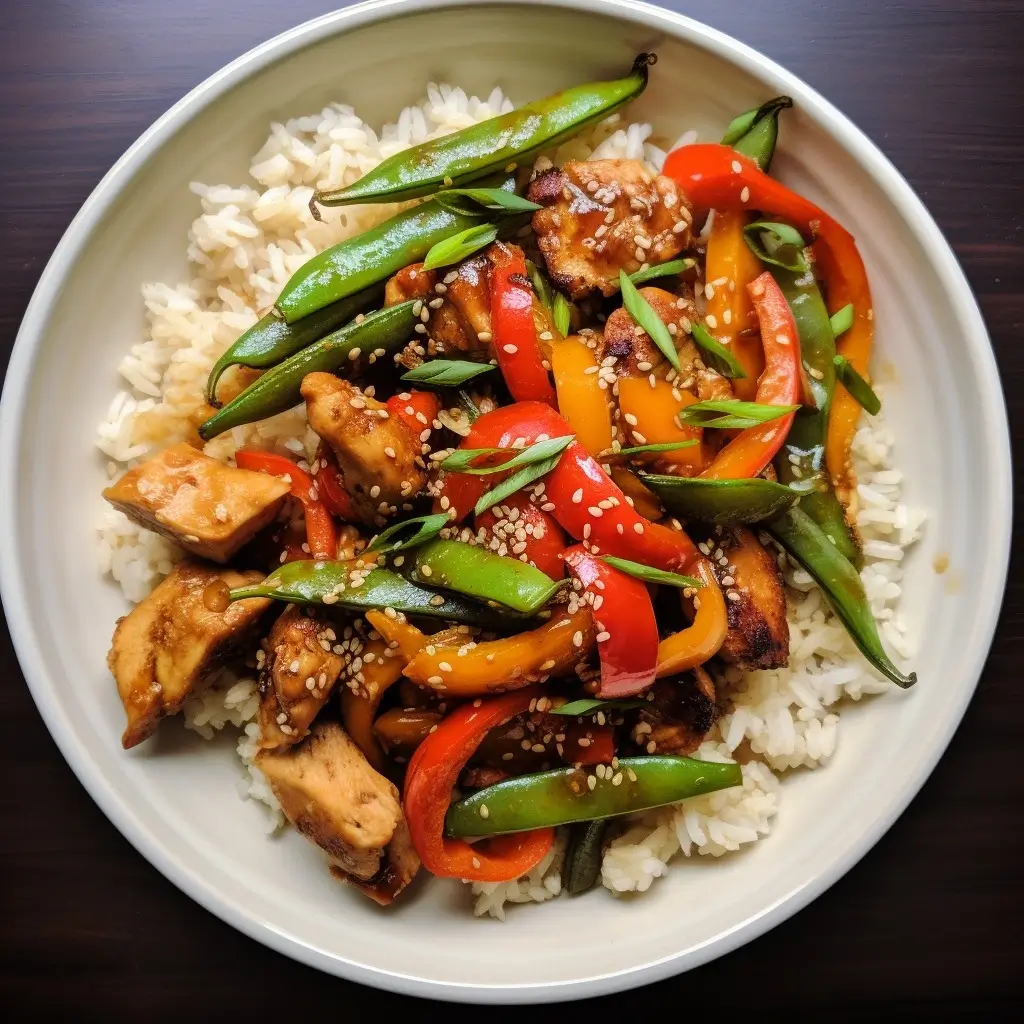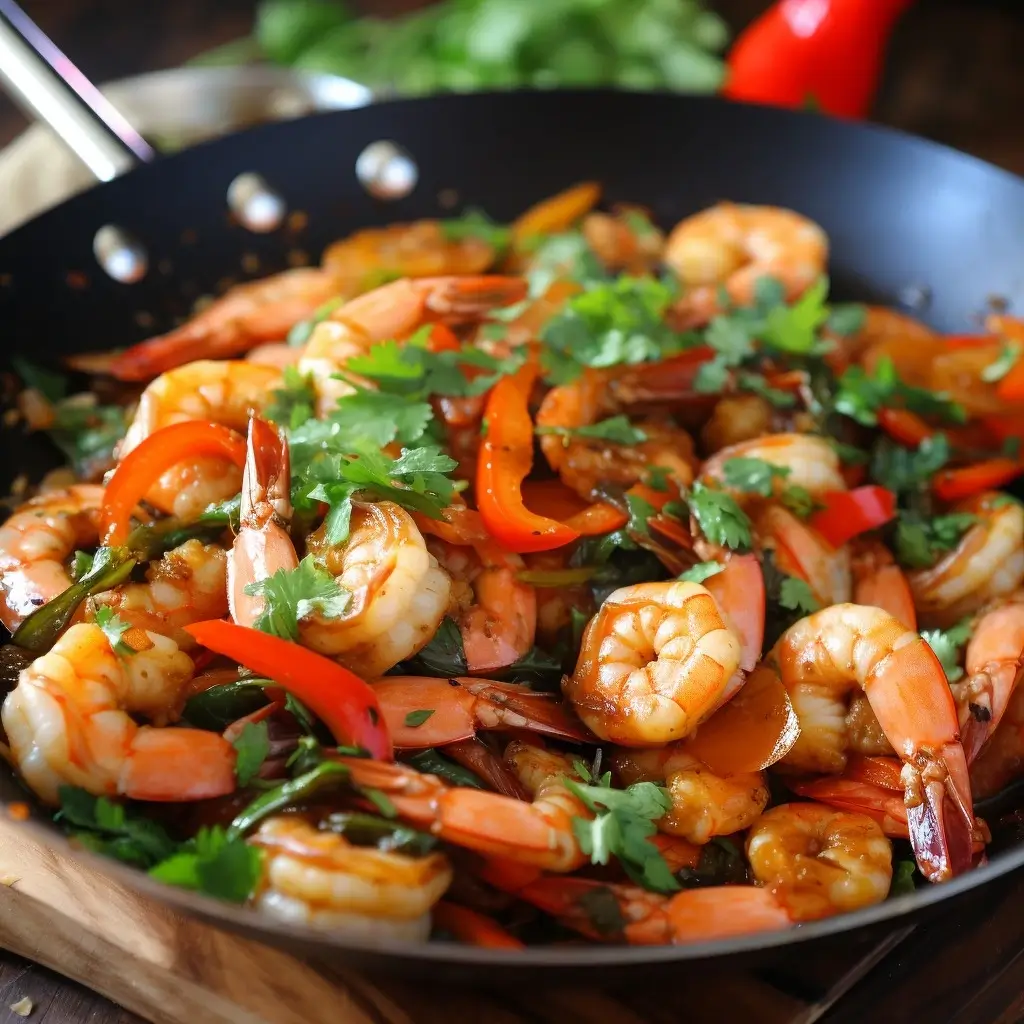 So how does the generator work in practice? You can ask NutriAdmin something like: Generate a meal plan with 2000 Kcal per day, 40/30/30 Carb/Fat/Protein split, Mediterranean diet, with no gluten or peanuts, containing recipes that take 20 minutes or less, don't require an oven, and using ingredients commonly available in the UK. You click a button and instantly get loads of meal combinations that meet all of your criteria.
Are you a busy personal trainer, or nutritionist that wants to provide accurate and professional meal plans for your clients but have no time? Then the generator is for you! Create professional and personalized meal plans in minutes, not hours.
You can watch the video below for a demonstration. It will blow your mind!
Creating a perfect meal plan in two minutes
What makes the generator great is that, as a nutrition professional, you typically know roughly what your client should eat in order to achieve their goals.
I.e. You may roughly know how many calories, and what types of meals would work well for a given client. The problem is, how can I quickly create a meal plan to meet all the conditions required?
Of course, you could enter every single meal one by one, and be as precise as needed. Our meal planning software offers this option if that's what you want. However, the generator acts like a massive shortcut, allowing you to specify parameters and to get a complete meal plan within a minute or two.
To use the generator, you start by filling in your desired level for Calories per day in the plan, as well as the level of protein, carbohydrate, and fat.
Then, you can specify how many meals you want per day in the plan. Every meal can be one of the following:
Breakfast
Main (e.g. lunch/dinner)
Snack
Drink
Dessert
Finally, you can give your generator template a name. This is so that you can re-use it later. For example, you may want to have a template for generating meal plans suitable for different types of clients:
Athletes trying to gain mass
Clients trying to lose weight
Women with anemia
A plan for teenagers that are growing up
Seniors that find certain ingredients challenging to digest
Etc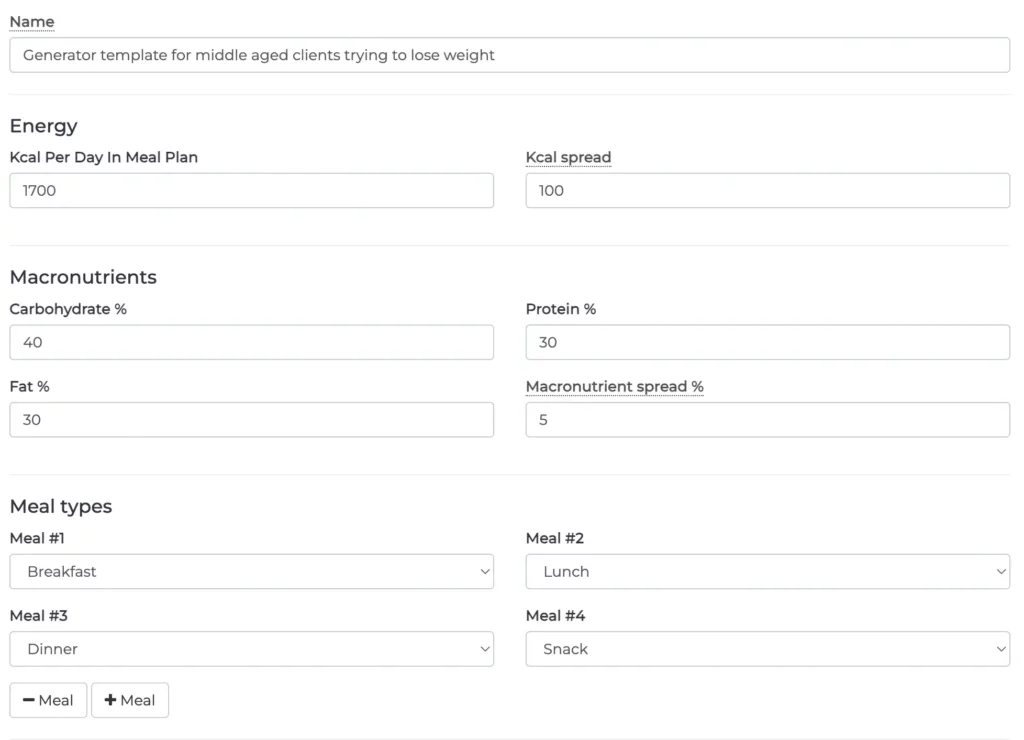 Choosing a diet and cooking time
Once you enter the parameters above, you can continue by specifying any ingredients that you wish to exclude. You can ask your client what they don't like, and add it there to ensure your plan doesn't ask them to eat foods they dislike.
You can further specify a maximum ready time. This is useful for busy clients that don't have time to cook. For instance, if you specify 20 minutes, then all the recipes you receive will be quick and easy. Perfect for those clients that are not used to cooking.
Finally, you can choose a diet. We support the following diets so far (and we plan to add more):
Atkins diet

Phase 1
Phase 2
Phase 3
Phase 4

Balanced diets

Clean eating diet
Mediterranean
Whole 30
Zone

Diabetes diet
Free-from diets

Gluten-free diet
Dairy-free diet

Dash diet
Anti-inflammatory diet
Keto

Ketogenic
Ketogenic vegetarian
Ketogenic vegan

Low FODMAP

Elimination phase
Bread reintroduction phase
Corn reintroduction phase
Fructose reintroduction phase
Fruit reintroduction phase
Galacto oligo saccharides reintroduction phase
Garlic reintroduction phase
Onion reintroduction phase
Lactose reintroduction phase

Meat free

Pescetarian
Raw vegan
Vegan
Vegetarian

Paleo

Paleo diet
Auto immune protocol (elimination phase)

South beach diet
Cuisine, Region, Cooking equipment, and Intolerances
If the above were not enough parameters, you can also click the advanced options button to refine your desired meal plan further. Below are the options:
Option to include/exclude exotic or unusual ingredients
Ability to specify available cooking equipment

Oven
Air fryer
Microwave
Blender
Pressure cooker
Pan
Pot

Region of the world where your client is in (to use ingredients commonly available there)

North America
United Kingdom
Australia/Pacific
Europe
Middle East
India
Asia
South America
Africa

Cuisines

American
Australian
British
Caribbean
Chinese
French
Greek
Indian
Italian
Japanese
Korean
Lebanese
Mexican
Middle Eastern
Spanish
Thai
Turkish
Vietnamese

Intolerances / Allergies and foods to avoid

Beef
Celery
Chicken
Crustaceans
Dairy
Eggs
Fish
Fructose
Garlic
Gluten
Lactose
Lamb
Molluscs
Mustard
Nuts
Onion
Peanuts
Pork
Sesame
Soy
Sulphites
You can choose as many of the parameters shown as you want, and leave the options that are not relevant. As mentioned earlier, your generator template is automatically saved, so you will be able to go back to it and re-use it or make changes.
Mixing in the results
When you specify your parameters and click the Generate Meal Plan button, you will be quickly presented with many results and options as shown below.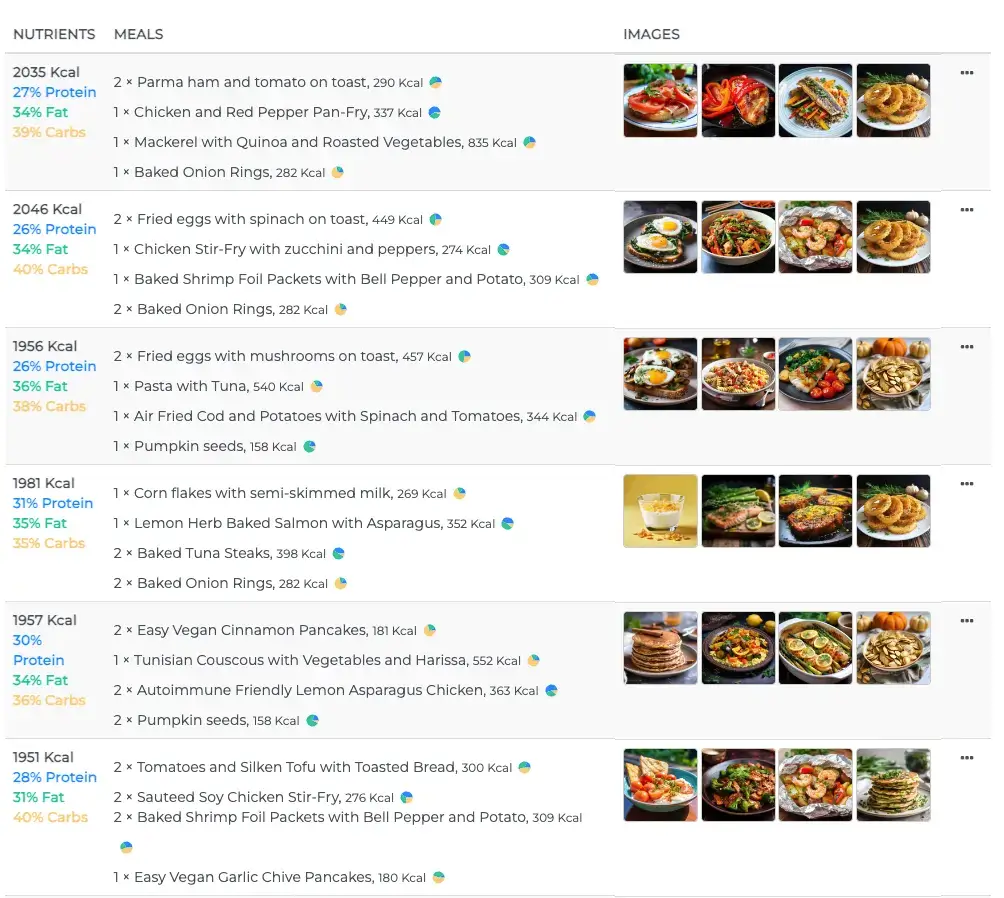 You can quickly browse the results, filter meals (e.g. include or exclude meals based on your preferences), see their details, and choose options.
In as little as 50 seconds, you can pick options based on the pictures – whatever looks good – with the confidence that the diet, nutrients, calories, intolerances, etc all align with your specific parameters.
No matter which combination of meals you pick they will all meet the criteria, so you can have fun and let the software do all that tedious number-crunching on your behalf!
Providing amazing recipes for clients
We have a large and expanding collection of proprietary recipes to populate the generator with. These have been developed/reviewed by Lucy Domingo, a registered nutritionist that has recently joined the NutriAdmin Team.
These recipes are all high-quality, the come with a studio-quality picture attached, and have been designed/vetted by a qualified nutritionist. We own the rights to the recipes at NutriAdmin and we allow you to provide them to clients without any attribution when you use the software. So no copyright concerns or branding problems there.
The recipes are simple to follow and can be mixed and matched in your results to provide the perfect meal plan for your clients. Below you can find two examples for your reference. Bear in mind the recipes will include your own branding.
Why NutriAdmin's generator is your best option
We started using NutriAdmin in 2016 and it has been an invaluable tool for people like you, who are passionate about nutrition and health.
With this generator, you can enjoy numerous benefits that no other tool can match:
User-Centric Design: The generator has been developed with insights from thousands of users, including nutritionists, coaches, and personal trainers, just like you.
Cutting-Edge Technology: Our proprietary algorithm, rooted in advanced computer science research conducted by our team at Cambridge and Edinburgh universities, delivers quick and precise results tailored to your specific criteria.
Unique Recipe Collection: We've curated a wealth of original, well-balanced recipes in-house, created by our team of nutritionists. These recipes are approved by registered nutritionists, ensuring that you can offer your customers truly exceptional meal plans.
Unparalleled Expertise: Our expertise, extensive data, and exclusive algorithm set us apart from the competition. No other tool on the market can match what we offer, giving you a competitive edge and new income opportunities in your practice or business.
Considering all of the above, we are confident that we are in the best position to offer you the finest generator available. As we continue to grow and gather more user feedback and data, we remain committed to refining our product to outshine any alternatives in the market. Your satisfaction and success are our top priorities.
Get started today!
We believe that the meal plan generator has the potential to revolutionize the way nutritionists, personal trainers, and coaches prepare individualized meal plans for their clients.
Making a meal plan used to take hours, but now this can be done in seconds with NutriAdmin. You don't want to be left behind and create meal plans manually whilst your peers jump in and start automating the work.
We offer a 14-day free trial, so why don't you get started now and generate your first meal plan. Try it once and you will realize how valuable this tool can be in your professional arsenal.
Finally, we welcome all feedback. We have just released the feature and we are working on adding more recipes, diets, and filtering options. If you have any requests or comments feel free to reach out.
Frequently asked questions