We just launched a time-saving feature for crafting personalized client recipes. In addition to automatically generating meal plans, NutriAdmin now includes a recipe database, enabling you to generate customized recipes in under a minute.
Do you find it exhausting to invest a lot of time making recipes that suit your clients? Is it frustrating that calculating nutrients is so time-consuming? And despite all your hard work, do your recipes appear professional and attractive, and do your clients genuinely follow them?
Many professionals believe that meal plans are ineffective because they are too complicated and unrealistic. Often, the recipes seem good in theory but lack practicality.
Well NutriAdmin is the best meal planning software for professionals, designed to solve all the above problems. With NutriAdmin, you can utilize advanced filters to search our extensive recipes database, tailored to your specific requirements. The database includes recipes from various cuisines and regions, accompanied by professional photography, all reviewed by a nutritionist. Using the software is swift and user-friendly, enabling you to save numerous hours each week when crafting meal plans.
Many of our users have to create meal plans on a regular basis. Take Catherine, for instance, who previously relied on spreadsheets. It would take her hours to think about recipes, calculate nutrient content, and make meal plans for her clients. Now, she creates effective meal plans with practical recipes and visually appealing designs that leave a lasting impression on clients. Clients are not only cooking but also following the plans, leading to improved fitness and health. Wouldn't you want to achieve the same results?
NutriAdmin Recipes Database
You can now stop worrying about creating recipes for your clients manually and focus on other important tasks in your nutrition or fitness practice. This recipes database feature will do all the work for you!
Watch the video demonstration below to get a glimpse of this amazing feature.
---
How can this make things easier for you?
There are a multitude of benefits of using our recipes database, especially if you have to create recipes or meal plans on a regular basis. Here is a breakdown of some of the best advantages offered by the software.
Different filters to optimize recipe search
You may choose to search using simple key words through Simple Search
For instance, you could quickly search for something like Mediterranean salmon and get related recipes. This is the quickest way to find recipes in the database, and works well for simple queries.
On the other hand, you can choose from the specific filters below to make your search more refined based on the following:
Calories
Macros and micronutrient needs
Diets
Allergies and food intolerances
Ingredients availability by region
Cuisines
Available cooking equipment
Amount of time they are willing to spend on food preparation
---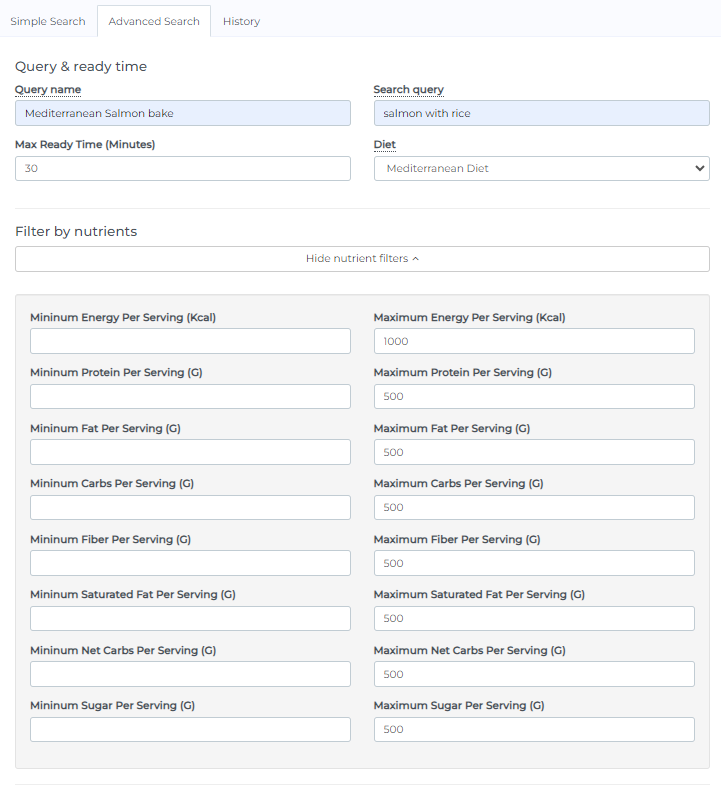 Shows Nutrient Content and Images
Aside from the calorie content of the recipes, the database will show you outright the macronutrient content as well as high quality images for you to decide which one would best fit your clients' meal plan. All done in just a few seconds!
Here is a sample of how it would look like:
This can show you, at a glance, a comparison of many related recipes. You can choose the right version depending on what you are aiming for. You can also sort and filter, e.g. ranking all the recipes by fat content for example.
The nutrients you can see at a glance include:
Calories
Carbohydrate
Fat
Protein
Saturated Fat
Fiber
Net Carbs
Sugar
High Quality Recipes reviewed by a Registered Nutritionist Dietitian
We consistently strive to provide our users with high quality recipes that are not only tasty but also easy to make. Our nutritionist meticulously reviewed the recipes in the database, ensuring they are not only appealing but also highly practical.
If you ever encounter any errors or ambiguities, or have any feedback on how to improve any of the recipes, you can let us know and we will get back to you typically within 24 hours. The way our system is designed, we are able to implement new suggestions relatively quickly.
Report any problems with the results
We included a button for you to easily report any missing results, or any problem with the recipes database. Our team will be notified immediately and provide updates once the issue is resolved.
For example, if you search for something like Indian chicken and spinach curry, and you get related results, but not exactly what you were looking for, that could mean we don't have the exact recipe or recipe idea you were looking for. Simply by clicking the button to report the result as missing, we will be notified and we will be able to add those missing results within a few days.
Professional Downloadable Recipes
No need to waste time typing or copying ingredients and instructions. You can now effortlessly download and share the recipes with your clients.
You can also customize the recipes to match your branding. Plus, you will have a detailed nutrient analysis of the recipe, covering both macronutrients and micronutrients. You can see an example below.
---
Searching the Database and Adding a Recipe Within a Meal Plan
If you want to add a recipe from the database while you're making a meal plan, you can directly access it on NutriAdmin's meal planning software. This would be really helpful if you want to add specific recipes for each meal. When you already have recipes for most meals and want to fill in the rest of the meal plan, this could save you a lot of time. It would also be efficient if you want to replace a certain dish or recipe from the meal plan generator results.
Access to Search History
Every time you search for a query, it is automatically saved in the recipe database history.
We designed it this way so that you won't have to type in recipe details and input specific parameters every time you want to search for your usual recipe. You can have easy access to your previous queries on the History tab.
Try NutriAdmin today!
If you are a nutritionist, dietitian, personal trainer, or a health coach, NutriAdmin's all-in-one software is curated to make your practice a lot easier. From meal plans, CRM, to online payments, and more.
Ready to try and experience the efficiency NutriAdmin's Recipes software brings to its users?
Get started and try the recipes database by signing up on a 14-day trial, completely free!
As we try to improve this new feature, we welcome any feedback or suggestions. Feel free to reach out to us if you have any requests or comments.