We listened to your requests and are excited to announce that our meal plan generator has been updated with new diets: Ketogenic Dairy-Free Diet, Nightshade-free Diet, Wahls Protocol, Low Histamine Diet, and Candida Diet.
These new meal plan generator additions are designed to enhance your ability to cater to the unique diet needs and restrictions of your clients efficiently.
NutriAdmin always strives to find ways to make your nutrition and fitness practice hassle-free. One of our main features, the meal plan generator, helps nutritionists, dietitians, coaches, and personal trainers create tailored meal plans in less than 60 seconds. The generator is updated whenever we find better ways to improve this feature together with the suggestions of our users.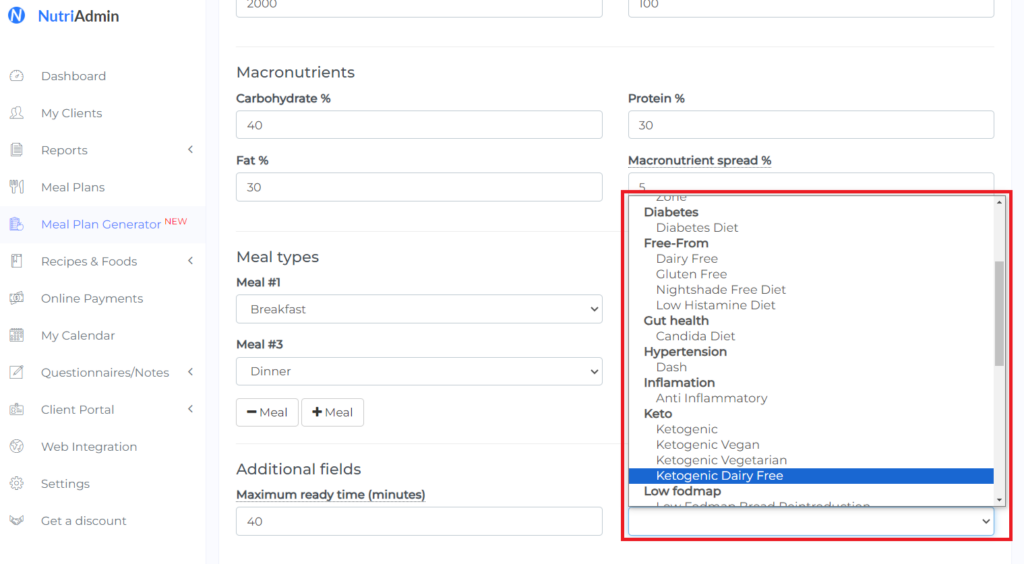 ---
In addition to the thirty-four (34) diets available in the generator, you may now generate meal plans based on the dietary requirements of the following new diets:
Ketogenic Dairy-Free Diet
This new diet addition combines the principles of a keto diet in addition to the exclusion of dairy products. It focuses on high fat, low-carb, and dairy-free foods. Therefore, the generator will automatically exclude foods that are not keto-friendly as well as dairy products.
---
Nightshade-free Diet
This diet is for individuals with sensitivities or allergies to nightshade vegetables (e.g. tomatoes, peppers, and eggplants). For this reason, generator will provide nightshade-free recipes in order for you to create meal plans based on the principles of this diet which will help clients avoid discomfort.
---
Wahls Protocol
A dietary approach developed by Dr. Terry Wahls, a physician who successfully managed her multiple sclerosis (MS) symptoms through diet and lifestyle changes. This new diet inclusion has levels that progressively build on each other:
Wahls Protocol Level 1
This level serves as the foundational stage of the protocol. It is rooted in the principles of a basic paleo diet, while emphasizing nutrient-dense foods and the elimination of processed foods, gluten, dairy, and eggs.
Wahls Protocol Level 2
It builds upon the foundation of Level 1. It introduces fermented foods, organ meats, as well as seaweed for its rich nutrient content that adds to the anti-inflammatory nature of the diet. This level avoids Soy products, grains, and legumes together with other exclusions in Level 1.
Wahls Protocol Level 3
This level is the ketogenic version of the protocol. It follows the principles from previous levels but significantly reduces carbohydrate intake by removing potatoes and other starches. This focuses on higher fat intake, introducing additional fat sources like coconut oil, avocados, and fatty fish.
---
Low Histamine Diet
This will help you curate meal plans that are suitable for clients' with histamine intolerance. The generator excludes common histamine-rich foods in the meal plans in order to help clients decrease discomfort or allergic reactions.
---
Candida Diet
With this addition, you can create meal plans efficiently for clients dealing with Candida overgrowth. Thus, this diet restricts sugar and yeast consumption which helps control the growth of Candida and alleviate related symptoms.
---
This is a sample generated meal plan for Wahls Protocol – Level 1.
How to get started
If you haven't tried NutriAdmin yet, you can sign up for a 14-day free trial to explore the meal plan generator feature. Want to know how NutriAdmin can help your practice? Check out all of our current features at nutriadmin.com/features.