If you have a lot of clients/patients in your nutrition/wellness practice, you may want to keep them organized and categorized by multiple criteria. NutriAdmin's EHR for nutritionists is build to help you with this and more!
We have just launched a tags feature so that you can store as many relevant tags as needed for your client. As you add tags to a client record, you will then be able to filter in the table of all clients and segment which clients match any given tag.
As your practice grows this will become useful as it will allow you to do things like:
Segment records for marketing purposes (e.g. which clients have given you permission to contact them)
Classify clients by goal (e.g. weight loss, medical recovery, etc)
Classify clients by the source where they came from (e.g. referral, website, in-person event)
Highlight allergies, or important medical conditions
and more!
You can save anything relevant and keep all your clients tagged with the relevant data.
The video below gives you an overview of how to use this feature.
How to add and remove tags
You can open any client record at NutriAdmin and click on the Overview tab. In there, you will be able to locate the Tags area as shown below.
You can type the name of your tag in the input box and click the plus button to add your new tag. Any existing tags will be shown to the right of the tags area. You can click here for a step-by-step tutorial.
In this particular example, we have added the tags:
gdpr
marketing consent: yes
source: in person event
diabetes
goal: losing weight
You can add any tags you want, for any information you may want to search, segment, and filter your clients by later.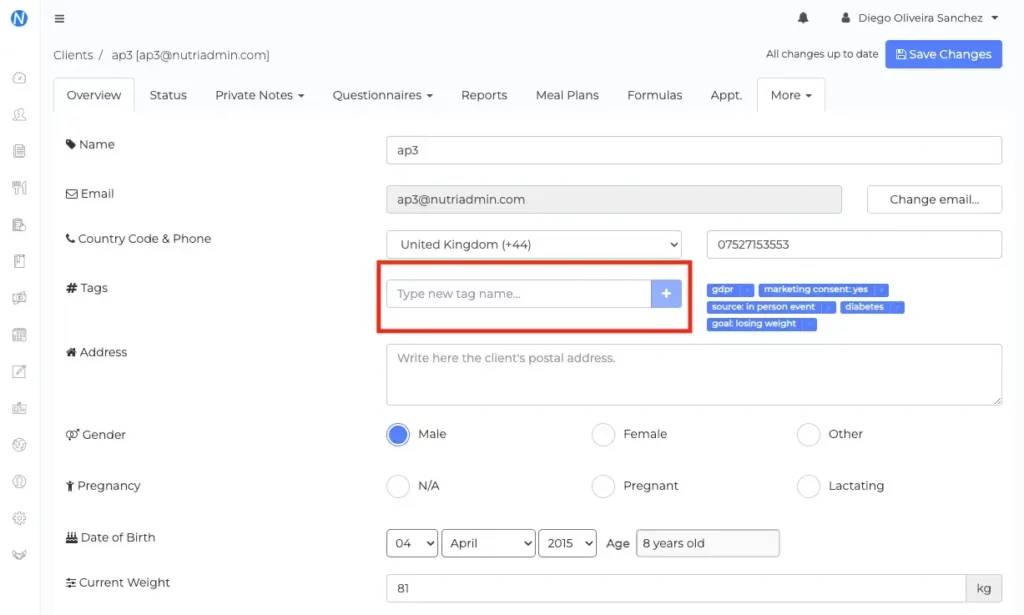 To remove a tag, all you have to do is to click the little x button next to each tag in the list.
Adding and removing tags will help you in organizing your nutrition practice clients. This will become invaluable as your business or practice grows.
Viewing tags
You can head to the main client list area to see all your tags in one place for every client.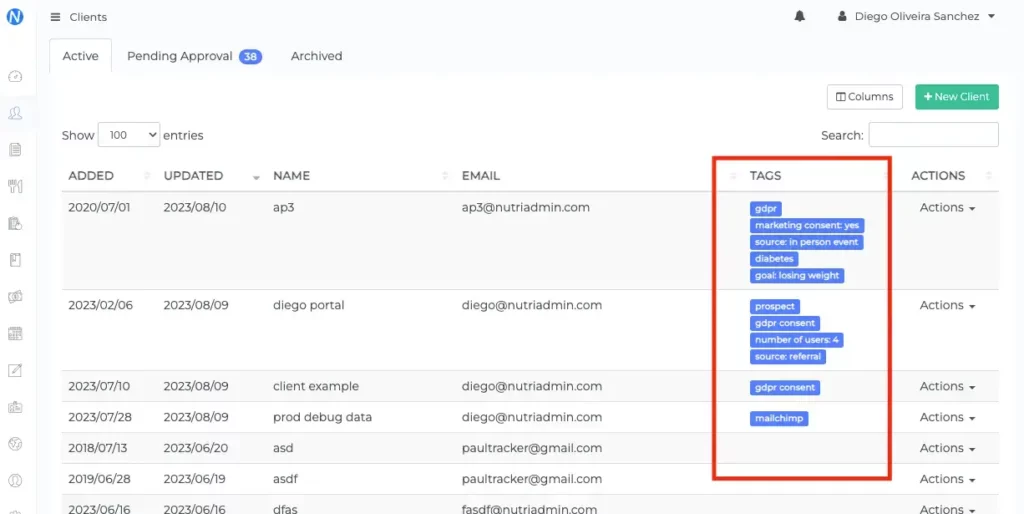 If you cannot see the tags, then you can click on the Columns button at the top of the page to change which columns are visible.
Having tags is useful for organizing your clients in your nutrition practice. By using the Search box on the top-right you can type the name (full or partial) of any tag and filter the table to show only results matching that tag.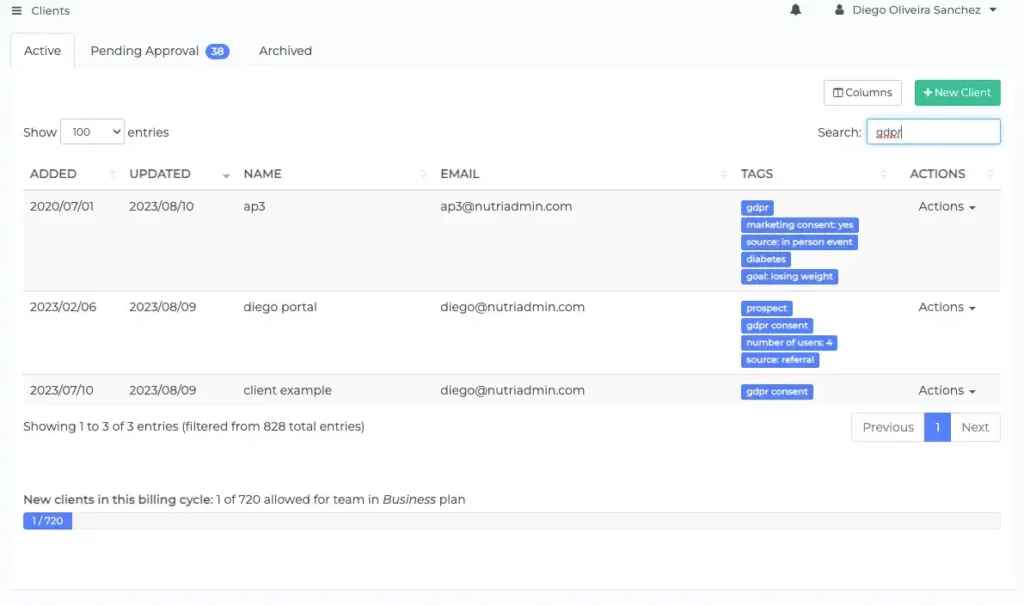 Moreover, you can select the data in the table and copy/paste it into Excel, or export it to Mailchimp. You can also get an overview of any clients that match any given criteria.
The bottom of the table contains some helper text, such as how many clients have been filtered. This can serve to count and get a basic idea of any clients that match some tags.
For example, if you classify clients by the source where they came in, e.g. if they heard about you via a referral, found you online, on social media, via ads, or elsewhere, you can find and count how many clients came from each channel. This can be useful to get a sense for which marketing channels are working best for you.
You can learn more tips on marketing for nutritionists in our podcast episode on Youtube.
Try it out
If you are not a NutriAdmin user at the moment, you can sign up for a 14-day free trial and try the crm. You can also check all the features we offer at nutriadmin.com