As of today, we are releasing a significantly improved graphical redesign and PDF editor for recipes! You can now create professional recipes with beautiful design with low effort.
Your recipes and meal plans represent your brand. When you hand in a document to a client, it's crucial that it looks professional. A sloppy or poorly design document may make your services feel "low quality" and hamper the ability of your business to grow.
For this reason, we have put effort in making the graphical design for your recipes look great, whilst adding multiple options that allow you to quickly customize the look of the final document.
Keep on reading to see for yourself how your recipes will look with the new editor. It's surprisingly easy to use!
How to create professional recipes in NutriAdmin
The new recipes editor at NutriAdmin allows you to:
Quickly edit a recipe, including ingredients, cooking instructions, and more
Get macronutrient and micronutrient analysis automatically
Choose from easy presets to format the fonts, colors, branding, etc in your PDF
Export the recipe to a PDF file with one click
You can see an example just below. Bear in mind that all the styling can be customized to suit your brand!
See all of those nice nutrient tables, graphics, carefully selected fonts, etc? All your recipes will look like this with our pdf templates.
Just imagine how much time you would have to spend to recreate nice formatting for your recipes using Microsoft Word. With NutriAdmin, you can create a recipe in a few minutes and export it without having to fiddle with all the annoying formatting!
How does the formatting work
You can click here for a short video explaining how to create a recipe in NutriAdmin. Once you have a recipe, you can head to the Download tab, where you will be presented with the following interface.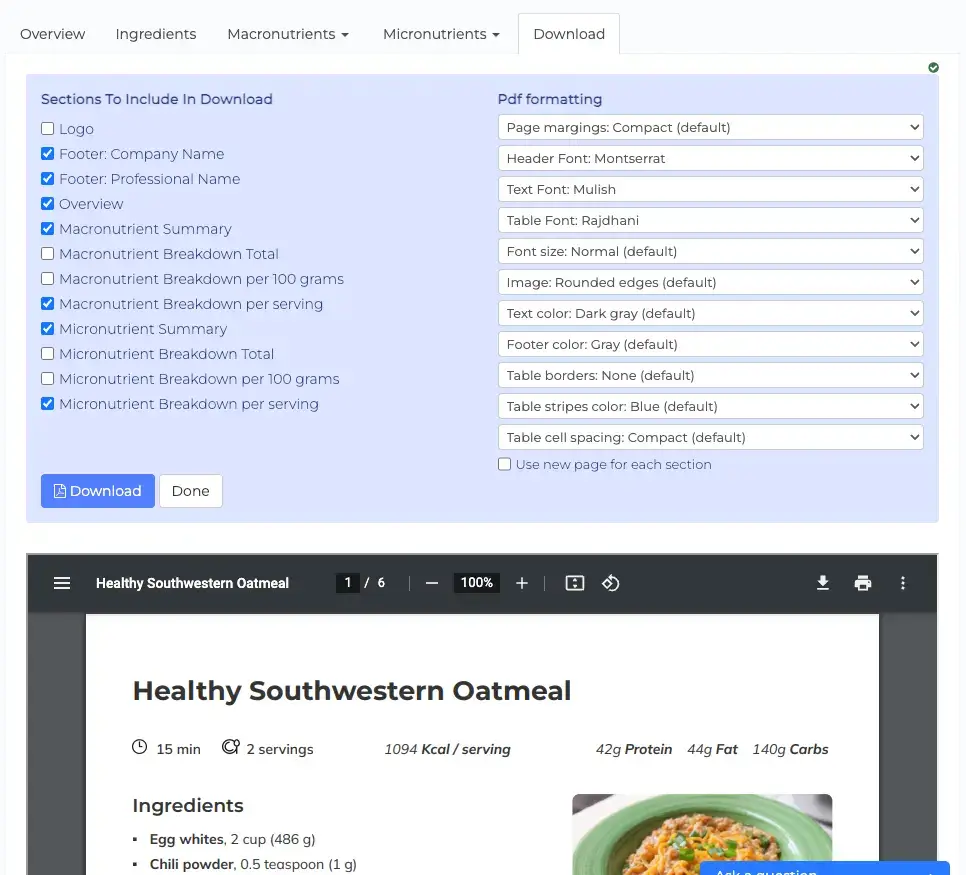 As you can see, you have multiple dropdown menus to tweak the formatting or your recipe. You can scroll down to see a live PDF preview of how your document will look like once you download it.
Options for formatting include:
Page margins
Fonts for headers, text, and tables
Image shape
Color for text
Option to include your logo at the top
Option to include a footer with your branding
Spacing in tables
Borders in tables
Shading/striping in tables
Font size
Additionally, you can choose which sections you want to include in the pdf. You can choose between:
Recipe overview
Macronutrients summary
Macronutrients breakdown (total in recipe, per serving, and per 100 g)
Micronutrients summary
Micronutrients breakdown (total in recipe, per serving, and per 100 g)
All these options allow you to create a professional recipe that you can send to your clients in PDF format.
This is how the recipe looks like when you print it!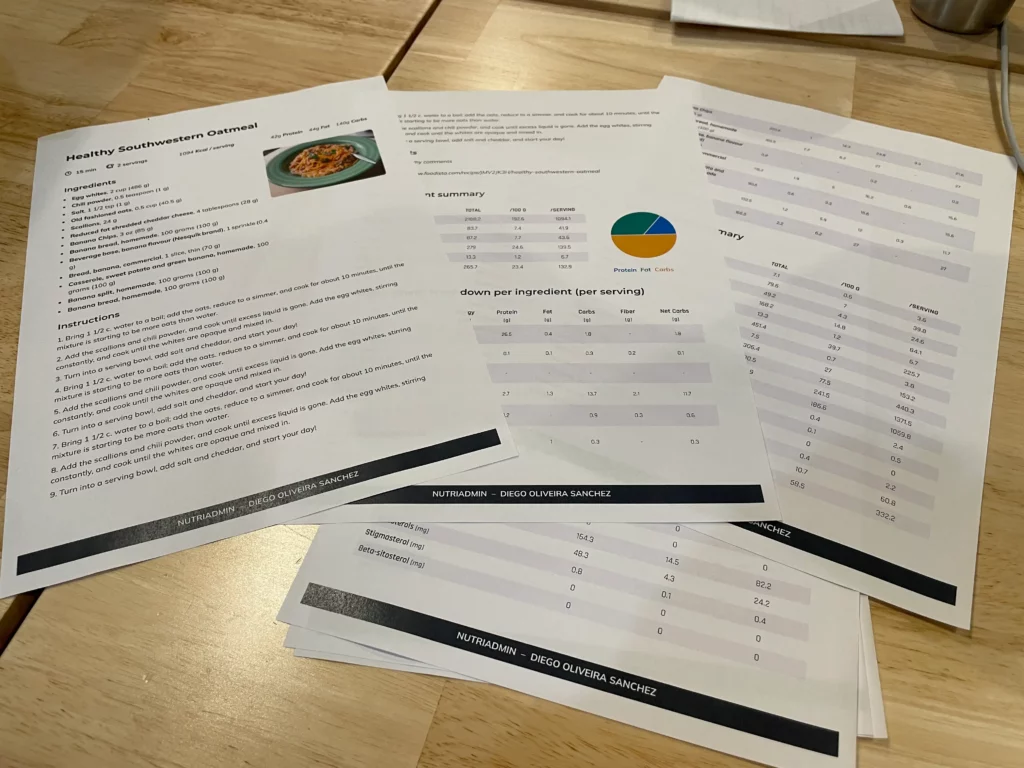 See how to create a professional recipe in action
Every nutritionist, coach, and personal trainer wants to hand over professional-looking documents to their clients.
If we all had infinite time, we could spend hours tweaking every formatting detail in a document to make it look perfect. Obviously, this is impractical in real life.
A good tool to create recipes should allow you to:
Do the work quickly
Produce a nice-looking document with little effort
Offer quick ways to customize the main aspects of the design, without having to dig deep in tiny details
This is the approach we have followed with the recipes pdf editor. The design looks great from the get-go, so you can use it as it is without spending any time in formatting. But then, if you want to change some general aspects like colors and fonts, that's as easy as picking from a dropdown menu.
You can watch the following Youtube video for a demo of how it works in action. Look at how easy it is to customize your recipe!
Conclusion
We have been running NutriAdmin since 2016 to help nutritionists, dietitians, personal trainers, and health coaches.
Over the years, many of our users have mentioned they would like better designs for documents exported from the software. Hopefully this redesign of recipes will be useful!
We plan to implement the same editor for meal plans soon, so stay tuned for that. You will be able to tweak and format the look of your document easily in the not-too-distant future.
If you want to try creating a few recipes on your own, you can sign up for our 14-day free trial and test the software out!