We are excited to announce one of the biggest updates we have made to NutriAdmin for a while. Our recipes software feature is now in a new level!
Today we are releasing a new recipes editor that has been build from the ground up to replace the previous version.
This new editor should allow you to:
Create and edit recipes efficiently
Spend less time editing ingredients with the nutrition search bar, that shows you ingredients as you type with their nutrient summaries visible for convenience
Edit ingredients using a spreadsheet interface
See a more granular breakdown of macronutrients and micronutrients in the recipe
Download a more porfessional looking PDF for your clients.
Curious to see how the new recipes editor looks like? You can watch the following video for a summary and a comparison with the previous editor version. If you haven't used NutriAdmin recently, then you can sign up for a free trial by clicking here.
Recipes editor overview and ingredients
We have remade the overview section of the recipe so that changes are auto-saved as you type. You no longer have to remember to click a Save Changes button.
Moreover, we have changed the ingredients to be in a separate dedicated tab.
The new ingredients tab allows you to edit foods using a spreadsheet. This is similar to the new spreadsheets we added last month, where you can edit cells, type, rename, move rows via drag & drop, copy/paste, and many other actions that are possible with spreadsheets!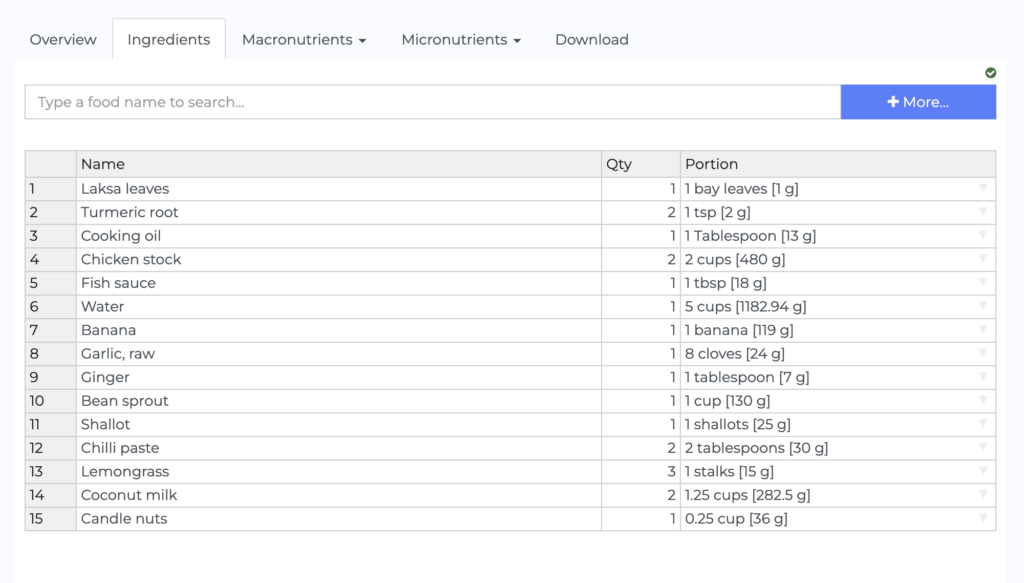 Specifically, this interface allows you to:
Rename ingredients by typing directly into the cell
Choose portion sizes from a dropdown menu, you can type/search in the cell and portions are sorted by size
Right-click to create new portions or to delete rows. You can delete multiple rows at once
Click on the row headers to drag and drop and change the order of ingredients
Changes are saved automatically as you edit the sheet
A new way to add ingredients to the recipe
We have dramatically improved the way in which you can add ingredients to your recipes.
Firstly, have a look at the nutrition search bar that takes the most space at the top. You can type any ingredient here, and NutriAdmin will search for matches in up to 6 food databases on your behalf as you type. Pretty cool, right?
The databases include:
Standard: for around 350 of the most common items out there like banana, broccoli, chicken breast, egg, etc. Most unprocessed single ingredients that are easily accessible in a supermarket are here.
USDA: Around 10,000+ foods provided by the US Department of Agriculture
USDA Branded: A whopping 450,000+ products accross 17,000+ brands from from the US and other countries
UK DB: McCance and Widdowson's dataset with nearly 3,000 UK-specific foods
AUSNUT: About 6000-7000 Australian and New Zealand food items
My foods/custom foods: The search bar will also show any food items you have created yourself in NutriAdmin
You can click here to read more about where our nutrition information comes from.
The search bar is extremely practical since you can navigate it with your keyboard and you get a little summary of the Calories and macros for each item right on the result.
Results are ranked by relevance, so the suggestions that best match your query will be shown at the top.
Using the recipes editor for precision nutrition
Sometimes you want to be even more precise with the items you add to your recipe, e.g. to achieve narrowly defined nutrition goals such as:
Helping someone with a specific condition or eating disorder
Coaching an athlete to achieve maximum performance
Assisting with weight loss for an overweight client
It's crucial to find the exact ingredients for your recipes in some of the scenarios above. For that reason, we have improved the food database search to give you advanced information as you query.
As you can see in the screenshot above, any search for items now yields:
The energy and macronutrients per food
The ability to sort and filter macronutrients and energy
The ability to click any item to see further details and micronutrient information before adding it to a meal plan
The option to show nutrients per 100 grams, or per any other quantity
The ability to filter by name or group
and more!
We believe that this should help busy nutritionists, dietitians, personal trainers and coaches that need to find the right recipes for their clients effectively.
Nutrition analysis for the recipes editor
We have improved the appearance of the nutrient breakdown for the recipe, as well as added more granularity. You can now check nutrients per:
Total in recipe
Breakdown per each ingredient, further subdivided in:

Breakdown per total ingredient amount in recipe
Breakdown per 100 grams of recipe
Breakdown per serving of recipe
Here are the totals for macronutrients in recipe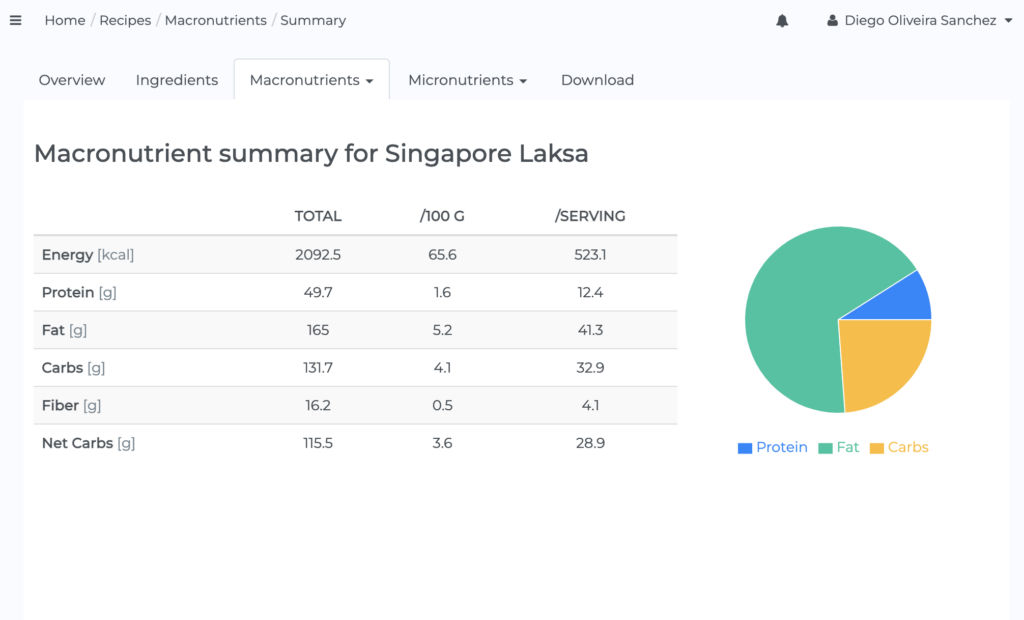 And the breakdown per ingredient for macronutrients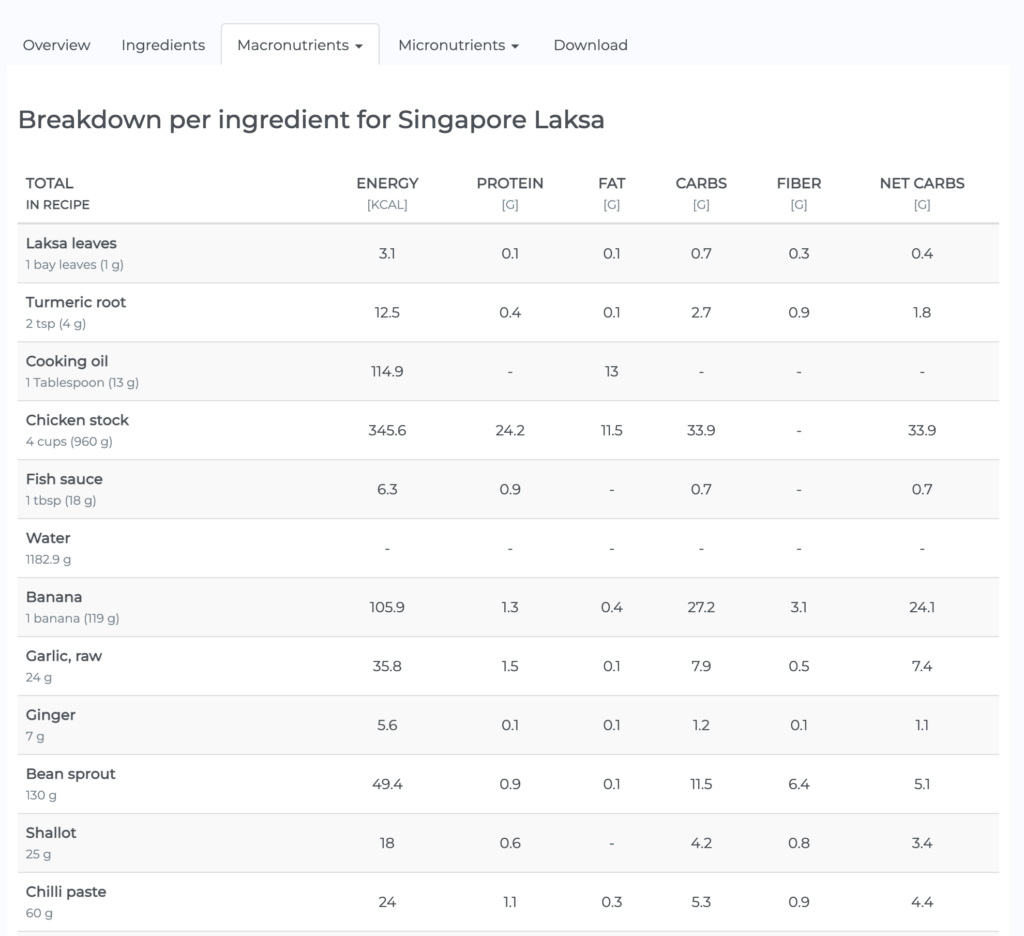 The micronutrient totals look as follows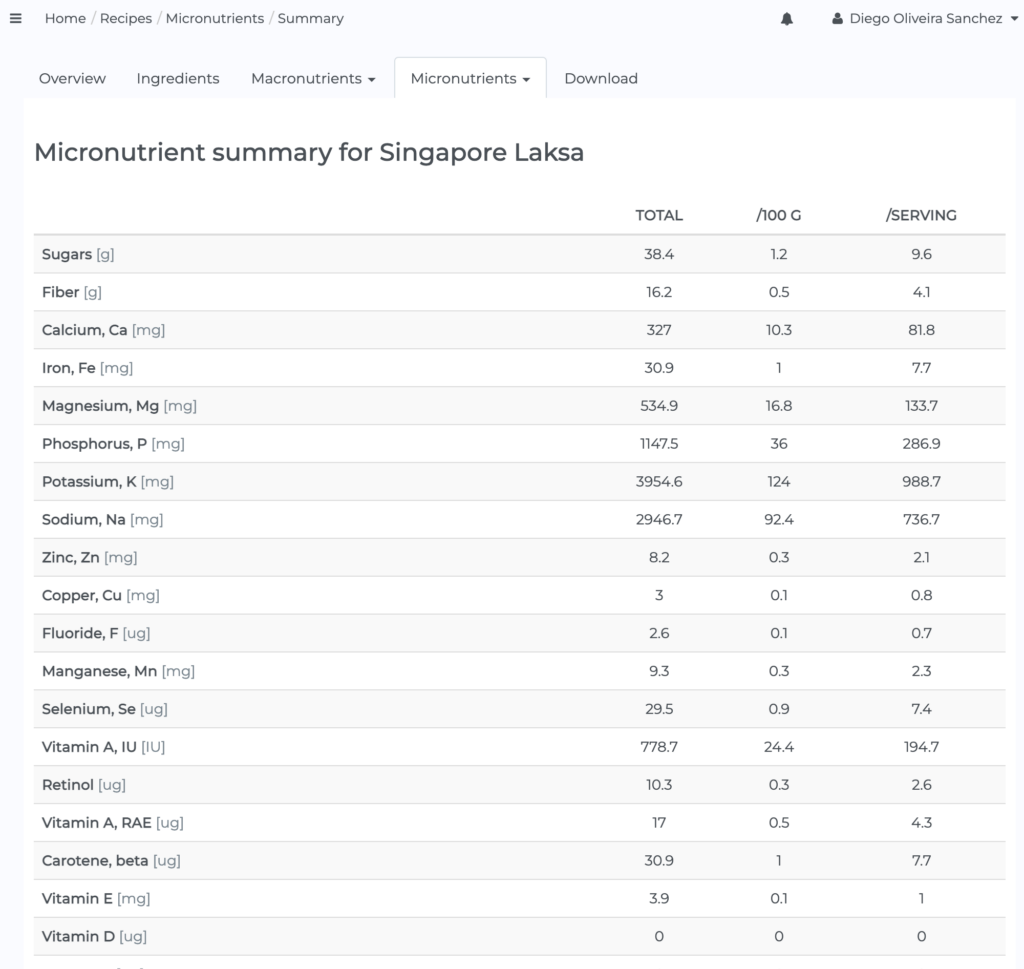 And here is the breakdown per ingredient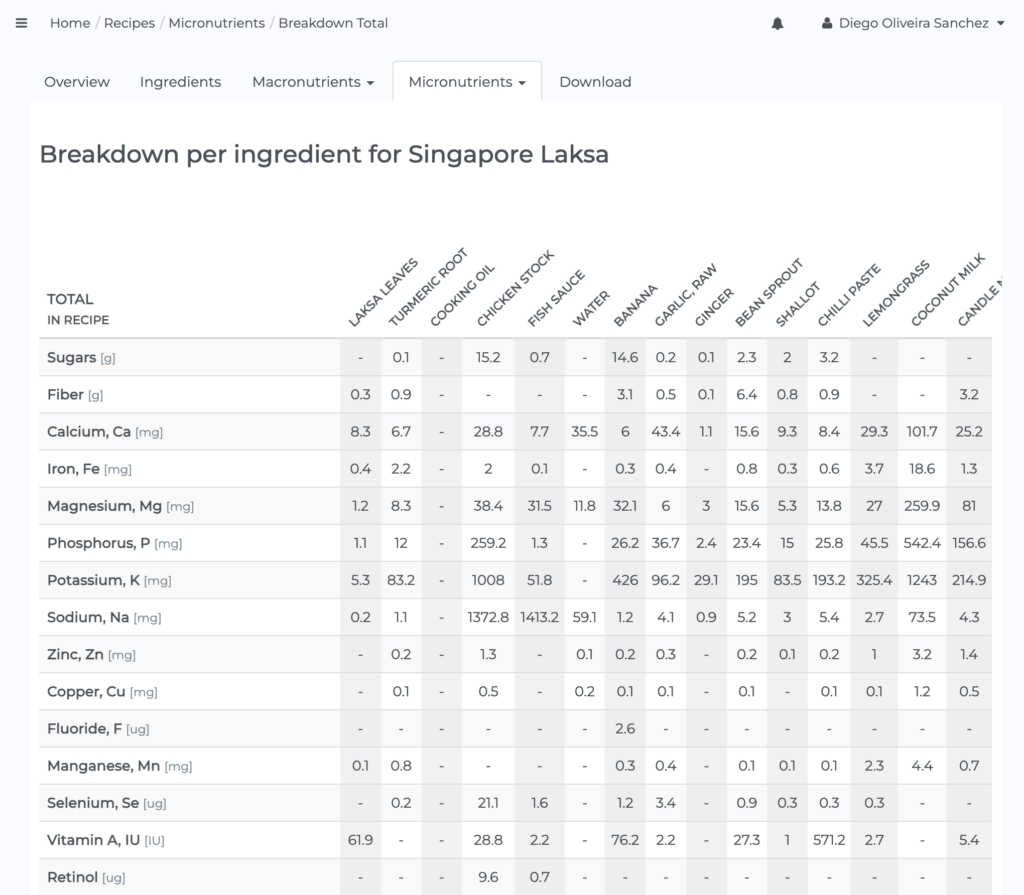 This in-depth analysis can help you answer questions such as:
Where are most of the calories coming from in this recipe?
Which ingredients are contributing most to key micronutrients like Sodium, Calcium, or Potassium?
Does this recipe provide enough Fiber and Protein?
Which ingredient amounts do I have to change to get the desired macros and micros balances?
and more!
Conclusion
The recipes editor has been re-engineered from scratch with all the knowledge we have accumulated since we started NutriAdmin back in 2016!
We have gained a lot of technical experience since those early days, as well as domain knowledge from speaking to our customers and collecting feature requests.
We believe that the new editor will help nutrition professionals be more efficient when managing recipes, and we can't wait to bring similar improvements to the meal planning software component of NutriAdmin.
We have left the final improvement for last. The looks and apperance of the recipes is much better now! When you download a PDF of your recipe, this will include your own logo and look sleek and professional. You can download a PDF example below.
Take into account that each section of the recipe download is optional, so you can remove unneccessary sections if needed.