Creating professional meal plans in as little time as possible is a great advantage and an essential productivity tool for those that work in the fitness industry. Balancing seeing your clients and managing their appointments, results and meal programs don't need to be overwhelming or more time-consuming than necessary if you rely on the best technological help that you can get.
Ensure your clients accomplish their goals, demonstrate professionalism, and give safe advice with NutriAdmin. Create personalized plans for your clients in an efficient way with our meal planning software for fitness professionals.
How to auto-generate a meal plan in a few minutes
NutriAdmin's meal planning feature allows two different meal plan creating processes that balance customization and efficiency to make your job easier.
You can create a plan from scratch, where you will be able to add every meal, food and recipe either from our databases or your own, or you can establish a few parameters so that our algorithm can auto-generate a complete and personalized meal plan in just a couple of minutes. The pre-built templates will help you to always recommend the right diet among many different options.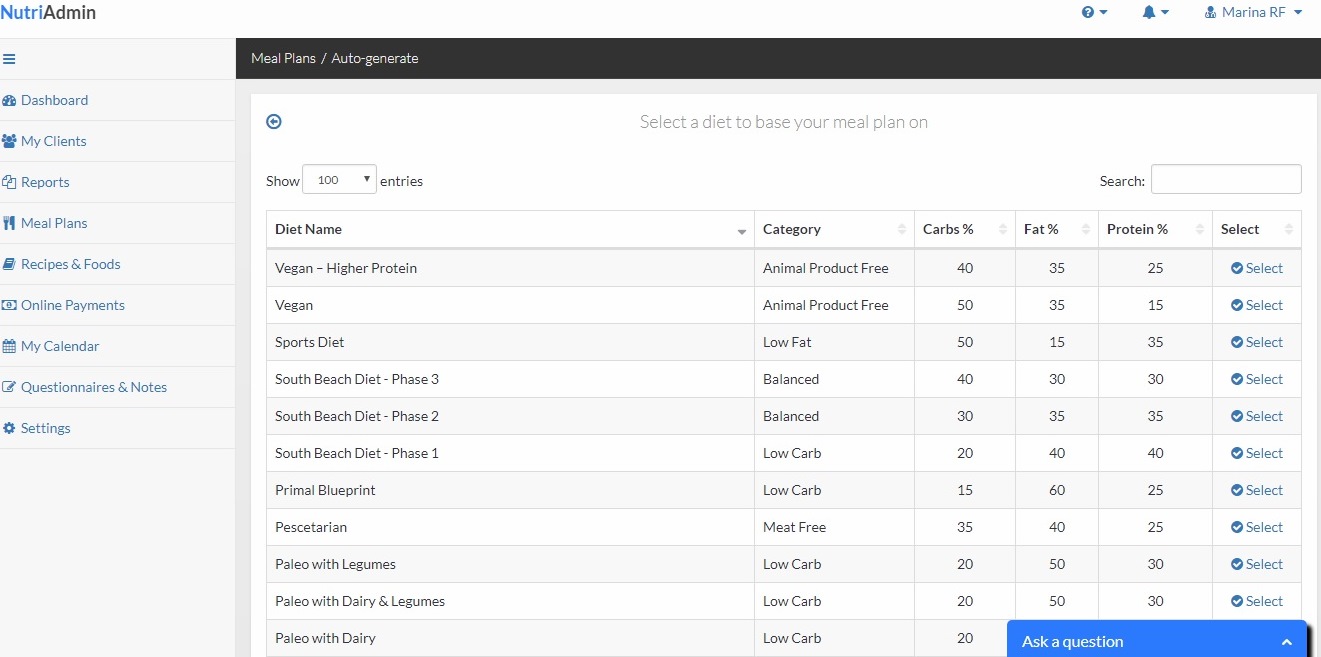 After you have selected a diet among the offered options – some of them especially suitable for sports, like the sports diet or high protein diets – you will be able to set parameters such as energy, carbohydrates, protein and fat, as well as pick allergens to avoid throughout the plan.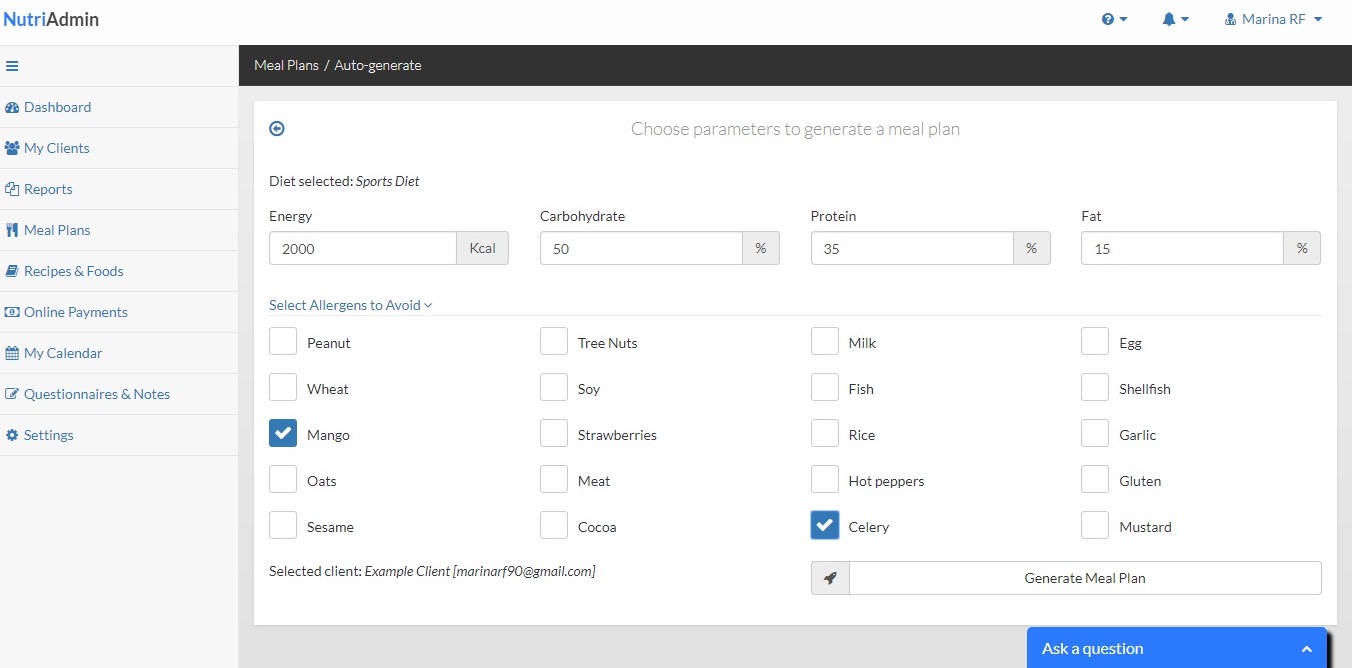 Once this is done and you click on Generate Meal Plan, in just a few seconds we will have a table-like screen with Breakfast, Lunch, Dinner and Snacks options for as many days as we selected in the beginning (from 1 to 7).
You will then just have to select the options desired to have them in your personalized meal plan. This process is especially effective in the fitness industry, since it means you always have at hand particular diets that, with a few tweaks, will be personalized for each of our clients' needs. If you can save time while creating your plans, you will definitely be more present and efficient with your clients.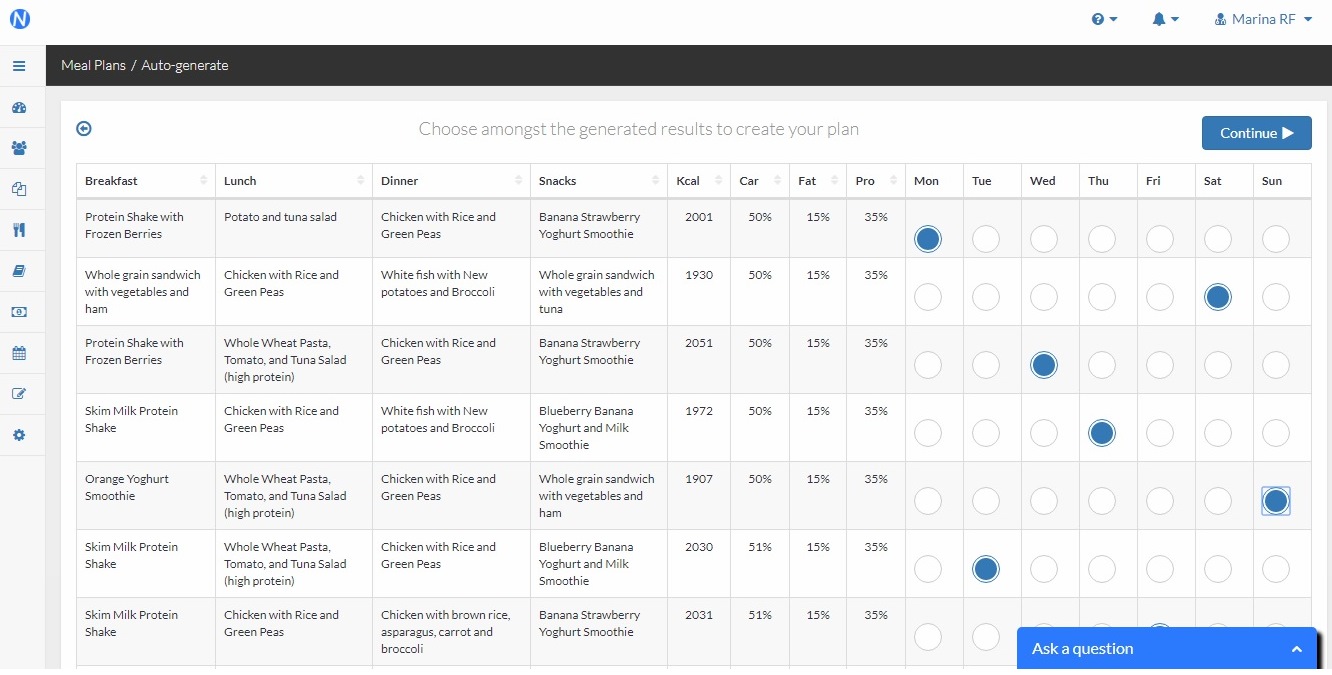 Once your selection is done, click on continue – your meal plan is ready! The final table will show every meal with its correspondent macro and micronutrient displays, formulas, recipes and an automatic shopping list. NutriAdmin works with a database of 90,000+ food items – flexible and easy to adjust.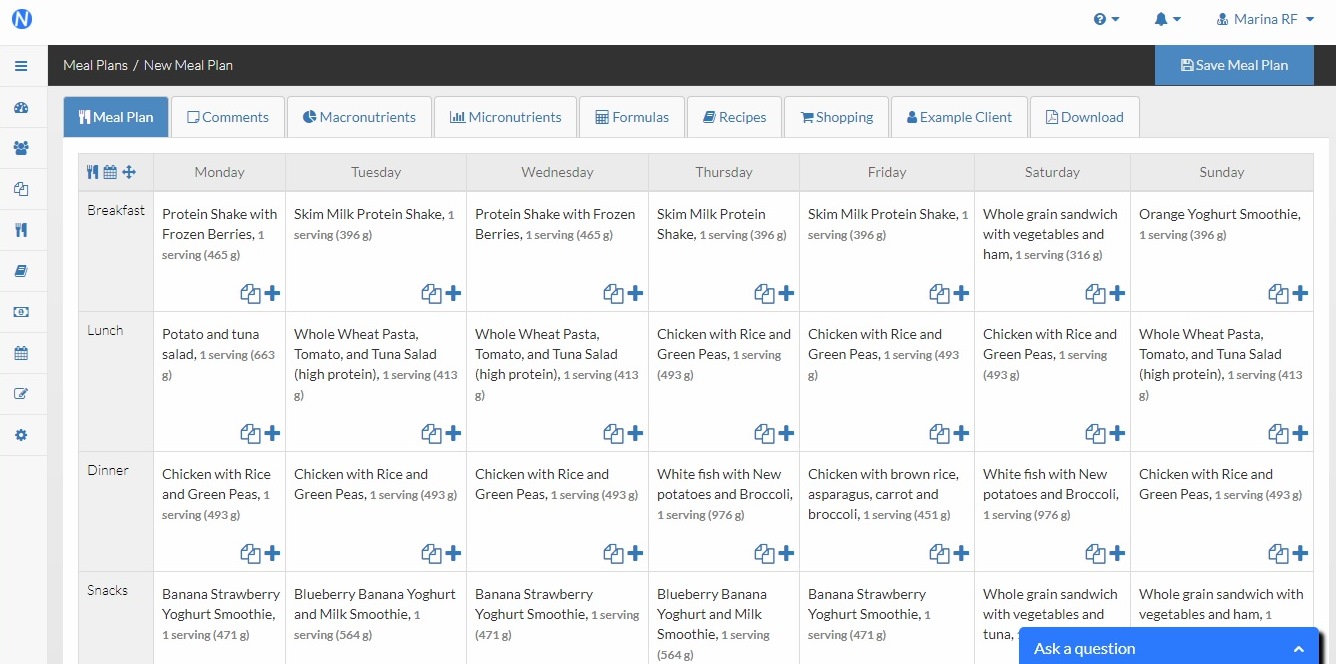 Other useful NutriAdmin features for fitness
Although the meal planning feature might be one of the best assets of this software, health and wellness professionals can benefit from NutriAdmin in many more ways. Doing nutritional analysis might be crucial for your job, but NutriAdmin will also allow you to keep track of client records. You can learn more about it [here].(https://nutriadmin.com/features/crm-for-nutritionists)
Every bit of useful information you need to track (weight, body fat, muscle mass etc.) is available in the notes section, making it easier for you to keep track of your clients' fitness over time.
If your main concern is if NutriAdmin can also incorporate exercise templates or workout routines, the answer is yes. Our client records allow setting up multiple templates for workouts, so you can combine them into a custom report.
Other features that will definitely help you manage your fitness business include a calendar, appointment and reminder system, online payments and the possibility to search and/or create recipes to make your meal planning as complete as possible.