A few weeks ago we addressed the subject of how health coaches can benefit from using NutriAdmin as the main system to organize their businesses (you can read that article here.
Today we are focusing on how these professionals can manage their client records, track objectives, and customize NutriAdmin to their needs.
NutriAdmin's variety of features and levels of customization offer an excellent option to health coaches that want to track client progress without introducing a lot of paperwork.
If you remember, a health coach is "a wellness authority and supportive mentor who motivates individuals to cultivate positive health choices. Health coaches educate and support clients to achieve their health goals through lifestyle and behaviour adjustments" (The Institute of Integrative Nutrition).
According to the definition above, tracking goals and having simple, professional and complete client records is a crucial element for health coaches. That's where NutriAdmin can help.
Client records
NutriAdmin's CRM –Client Relationship Management- stores Electronic Health Records (EHR) for your clients in a HIPAA-compliant cloud. This means you can access your account from any device and be sure your data is safe.
The client records are fully customizable to any kind of data you need to include, in contrast to many other systems that might limit your ability to add or edit custom fields.
In addition, with NutriAdmin you will be able to track and manage several clients at the same time, easily create, send and store questionnaires, and keep your client records at hand any time with just a click.
Client records, questionnaires, etc are very flexible and can be adapted for the complex needs of a health coach.
Tracking progress
One of the reasons a health coach will find NutriAdmin their perfect companion it's because it allows you to track clients' goals and progress towards fitness. Your clients' anthropometry measurements can be tracked periodically and downloaded at any time as a PDF report.
There are several categories available on your "Private Notes" Client Record tab, and one of them is Anthropometry/Fitness. Be sure to click there to add a series of data fields such as current weight/height/BMI, weight history, and a fitness tracking table with different metrics.
This data should be filled out every time you have a consultation with your client or new reports from them, and the software will take care of turning this into a complete, professional report that you can save and download as a PDF anytime you need.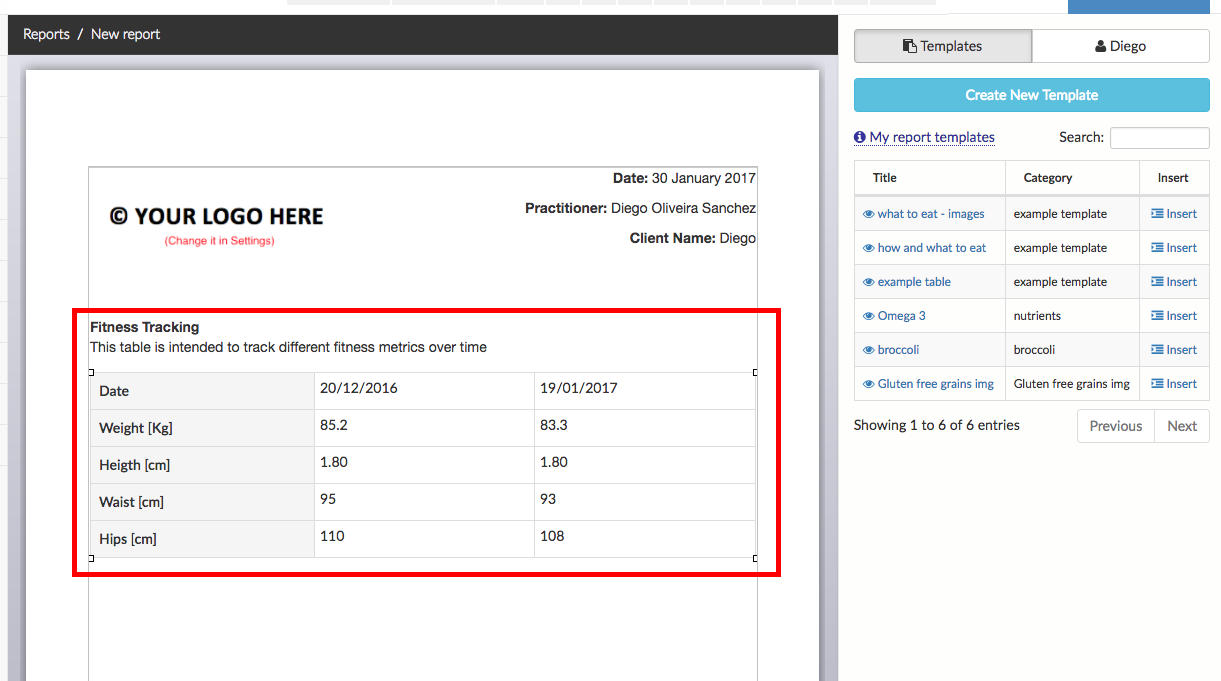 Finally, NutriAdmin includes a client portal, that allows clients to login securely in order to keep all of their goals and progress updated over time. This can save you considerable amount of time. Time that can be spent in conversation with clients.