We are excited to launch a new update to NutriAdmin that includes some heavily anticipated features amongst our users.
First of all, you can now filter recipes by prep & cook time when using the meal plan generator. This means that you can generate plans where all recipes take 15 minutes or less for example. This should allow you to make quick and practical plans in record time
Secondly, we have added a spreadsheet interface to edit data. This looks like an Excel or Google Sheets spreadhseet, which means you already know how to use it. What's exciting here is that when you have to edit a lot of data, like nutrients or portion sizes, this will make your job much quicker as you can copy/paste rows, edit in bulk, etc.
Finally, you can now create multiple portion sizes for custom foods that you create in the software. Previously the interface only allowed creating a single food, but this limitation has been lifted.
You can watch a 5-minute summary of this update below.
Generating meal plans with quick recipes only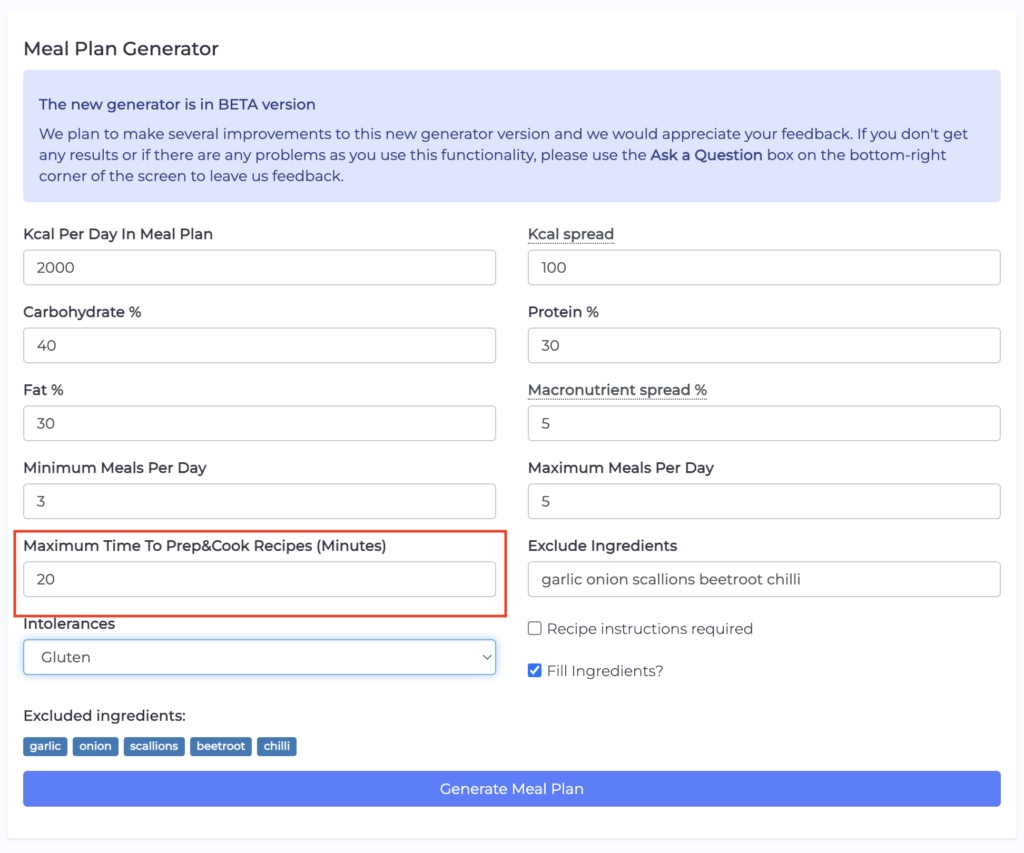 We have added a new option when you generate a meal plan so that you can specify maximum time to prep & cook recipes.
What this means in practice is that you can restrict the generator to use only recipes that meet your desired time constraints.
Let's face it, following a strict meal plan can be hard. Moreover, a lot of clients are busy individuals that don't want to spend more time than necessary cooking and prepping recipes.
With NutriAdmin, you can now generate a whole meal plan and ensure all recipes are under 10 minutes, 15 minutes, 20 minutes, or whatever time amount you are interested in.
This should save you tremendous time! As you can now generate a whole plan in a couple of minutes, and make sure your client is satisfied.
Creating custom foods with the new spreadsheet interface
We have re-engineered the way in which you can create custom foods to use in recipes and meal plans. The interface should be quicker and more practical now.
For instance, you can now add multiple portion sizes for your food.
So, in this example, let's imagine we create a custom food for Pink Himalayan Salt. We are able to set up multiple portion sizes, from tsp, to tbsp, cup, pinch, oz, and anything else that is required.
With the spreadsheet interface, you will notice it resembles Excel or Google Sheets. This allows you to be much quicker as you can simply type in your keyboard, use the arrow keys to navigate, or the enter key to move to the next row.
The best part is that all the data you enter is saved automatically, so this removes a lot of hassle.
There are further advantages of having a spreadsheet, such as being able to copy/paste between cells, sort, filter, add formulas etc. We plan to implement extra spreadsheet functionality in the future where relevant to help you simplify your work.
We have also added a spreadsheet for nutrients which will help you enter this data faster – or even to copy/paste it from your existing spreadsheets!
Bonus feature: multiple intolerances
We have also added the option to filter by multiple intolerances, including Gluten, Shellfish, Soy, Peanut, and more.
In the past you could only pick one, but now you can select multiple options if needed. You can check the screenshot below for details.
Future plans
We are always adding new features based on feedback from users. If you have any ideas or suggestions feel free to reach out!
We plan to incorporate the spreadsheet functionality in other places where it makes sense, such as in the recipes editor as well as the meal plan editor.
Within the recipes/meal plan editors, we plan to add dropdown cells so that you can easily query portion sizes and type or choose from pre-defined options.
There are many other ways in which the spreadsheets can help you edit your plans faster, stay tuned to learn more!
If you want to try the new features, why not signing up for a free trial at NutriAdmin?