NOTE: There is a newer version of this article, you can click here to read it.
Today we are pleased to announce that we have released a new meal plan generator. This new feature will allow you to create a professional meal plan for your clients in as little as sixty seconds. Recipes are provided by Spoonacular.
Ever since we launched NutriAdmin back in 2016 we have had demand for this feature. A way to specify a diet, calories, and macronutrient distribution and then to obtain a full meal plan based on those parameters.
It's understandable why such a feature would be helpful. Creating meal plans is hard. You have to make sure they meet the goals of your clients, and the process can be laborious.
Our goal is to make meal planning as easy as possible. Our meal planning software has been designed under this guiding principle. We believe nutritionists, dietitians, coaches, and personal trainers should spend more time face-to-face with clients, and less time doing admin.
How does it work?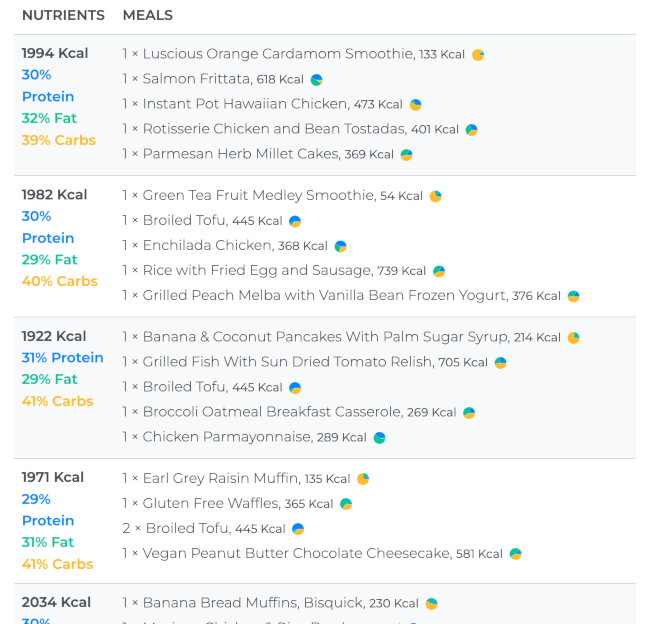 The following parameters are available as input from you as a user:
The amount of Kcal you want in a plan
How much Protein/Fat/Carbohydrate percentage you need for your meals
How many meals you want per day
How many days the plan must have
A list of ingredients to avoid, these can be as specific as you want
An intolerance your client has so that the meal planner can avoid that
Moreover, we plan to add other filters such as diet, cooking time, cost, etc so that you can get plans that are as customized as possible.
Once you specify the parameters above, NutriAdmin will query the Spoonacular database, containing 360,000+ recipes and produce suitable combinations of recipes that meet your requirements.
This is a game changer, because you can have a truly customized meal plan that meets dietary requirements whilst providing a lot of variety.
You can watch the following 5-minute video below for a brief demo of how you can combine Spoonacular recipes into a plan in action
How does this differ from the previous version
If you have used NutriAdmin before, you may be aware that we already had a feature like this in place. In fact, we had two versions. We launched an initial version back in 2016, then an improved remake of this feature in 2018.
Over the years, we have collected feedback from our users and found that there were a few key improvements the generator needed in order to be the most useful for our users.
The newest version of the feature has been designed from scratch to accommodate the feedback that our users have provided. In particular:
The previous versions had a smaller number of recipes available. We now have over 360,000+ recipes to choose from, thanks to the Spoonacular database, so the algorithm can provide a lot of variety
The previous versions could only produce meal plans with 4 meals per day, due to a limitation in its technical design. This limitation exists no longer. You can now create plans with any number of meals per day
The old versions didn't allow filtering by specific ingredients. We have fixed this. You can now exclude any number of specific ingredients as you generate a meal plan
Other filtering options were missing and we are adding those now, including filtering by cooking time (e.g. so that you can make easy meal plans, or some that are more elaborate).
The redesign from a technical perspective means that now we will be able to more quickly accommodate new feature requests and use user feedback to improve the feature further.
How can I try it out?
You can head to the meal plan generator page to sign up for a 14-day free trial to test it out. Start by creating your first few meal plans and see what this feature is capable of!
You can also just click the button below
If you are already a member of NutriAdmin, you can simply open your dashboard and navigate to this feature on the left menu page.
We are very excited about releasing this new feature and you should keep your eyes peeled for new improvements to this feature. If you have any ideas to make it better feel free to comment or reach out!