We are ecstatic to release this new feature: the ability to generate recipes with artificial intelligence.
Since the beginning of 2023, ChatGPT from OpenAI has been making headlines all around the world. Their text generation model is powerful and can answer general queries of all types.
Today, we bring you an integration with this powerful AI engine that allows you to:
Specify a query for a recipe, e.g. Give me a recipe for breakfast, taking 20 minutes, including eggs and cheese, and cooked in a pan
Tweak the ingredients and instructions that the AI will generate for you
Pick an image for your recipe among multiple options, AI generated.
Do any relevant final edits to the recipe if needed, to use on its own, download as a PDF file, or to include in meal plans.
You can read on how this works and how it can benefit below, or watch the following 6-minute video demo on this new feature.
How to generate recipes with AI
The whole process of generating a recipe with AI takes about a minute. Just imagine how much time you can save creating recipes!
You start by typing what you want in a box, e.g. Give me a recipe for a healthy Keto Vegetarian lunch, ready in 20 minutes, and using a frying pan to cook. The AI Recipe Generator will use this query to produce a unique recipe for you!
You can be very specific, and include the following:
a list of ingredients you want in the recipe
cooking equipement, like a pan, oven, no equipment, etc
approximate cooking time
diet information, like keto, vegetarian, vegan, fluten-free, etc
useful adjectives or descriptive words, like "easy", "quick", "simple", etc
That's it! Literally typing one sentence in a box is all you have to do to generate an entire recipe. You can pick an image and tweak the results if you wish, but the bulk of the work is done in a few seconds!
The AI model has some limitations and may not always be able to produce results matching your query. You may get poor results if the query is too complex or using highly specialistic knowledge or using references to obscure data/information that OpenAI doesn't have access to.
The above being said, in general it is amazing for recipes and can generate incredible results! You should experiment and try it out to see for yourself! It honestly feels like magic most of the time. I've personally worked with artificial intelligence during my masters at Cambridge University in 2013-2014, and it's incredible how this technology has advanced in a short decade.
Reviewing generated results with AI
Once you generate a recipe, you will have the chance to review and edit the title, ingredient list, and preparation instructions, if you wish. You can see an example below.
The advantage of generating a recipe with AI in NutriAdmin is that we will find nutritional information for the ingredients on your behalf. Using a generic tool like ChatGPT may not be able to do this, or data may not be accurate.
We achieve this by matching every ingredient suggested with the AI with a corresponding item in our foods databases. This includes USDA, USDA Branded, AUSNUT, and McCance and Widdowson's, and more.
Once you confirm your ingredients and instructions, you will get the chance to generate an image to represent your recipe using DALL-E, which is another product provided by OpenAI.
The way this works is that you write a sentence describing your picture. Your description can include:
Ingredients, e.g. Feta, mushrooms, tomatoes
Description of the presentation: e.g. in a pan, in a bowl, on a plate
Description of the image itself: e.g. realistic, photographic, like a cartoon, like a painting. Usually you will want it to look realistic like a photo for a recipe, which is the default behaviour, but you can get artistic if you want!
any other adjective or descriptor, you can be creative!
Below is an example of the images generated by entering the query: Keto Vegetarian Lunch, with feta cheese, peppers, mushrooms, onion, and cherry tomatoes in a pan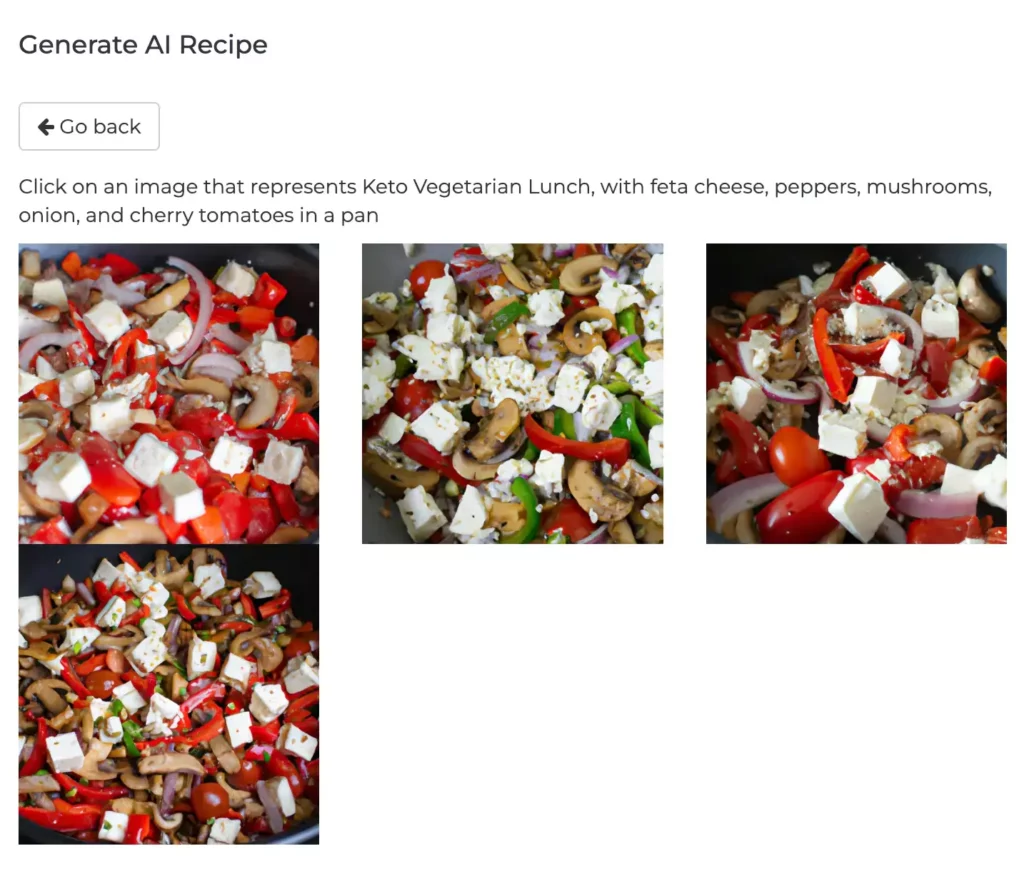 A great advantage of generating images with AI is that they are free of any copyright concerns. You can use them in your recipes commercially without problem. You can click here for more information.
Working with generated AI recipes
Once you generate a recipe, which takes 1 minute, you can use the recipes editor to edit every aspect of the recipe.
For instance, you can change the ingredients, edit quantities, portion sizes, rename some of them, etc.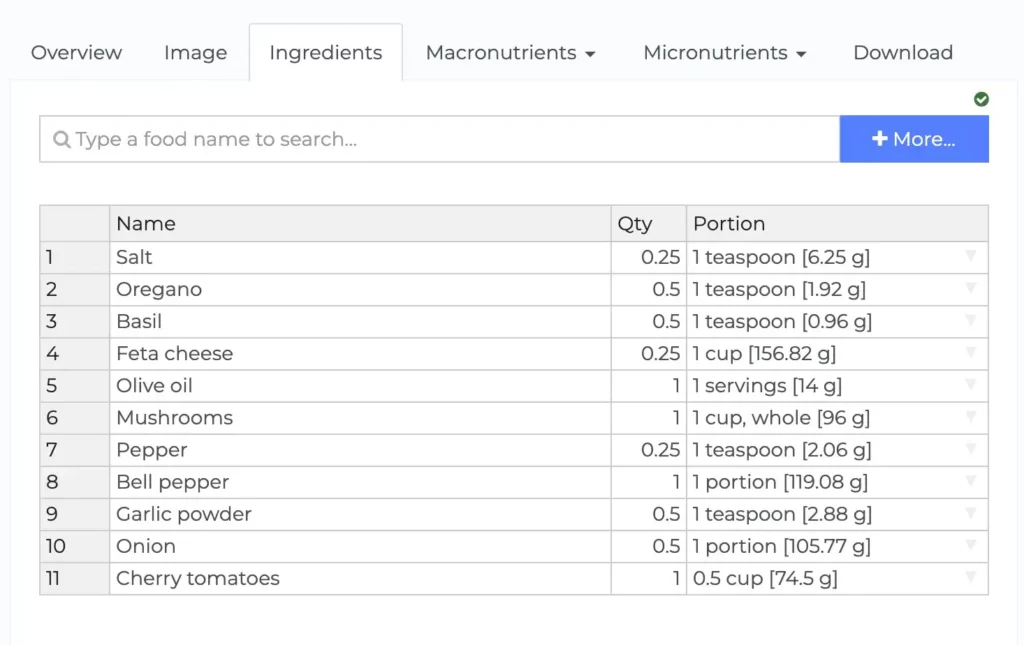 You can also review the nutrients in your generated recipe. Below is the profile for our Keto Vegetarian Lunch. You can see that about 65% of the energy content of this recipe comes from Fat. You should expect high fat content for a keto recipe.
This is the stage where you can judge as a nutrition professional if the recipe meets the requirements needed for this client. For instance, if you believe this recipe should have a higher protein content, lower carbs, or anything else, you can go back to the ingredients and tweak the quantities. E.g. adding more oil or reducing the amount of veg as needed.
You may be able to use the recipe as it is generated, without any edits, or you may need to spend about a minute tweaking details. Once you are done, you can download the recipe as a PDF.
The downloaded recipe will contain your logo and branding and no reference to NutriAdmin whatsoever. You can use these recipes professionally for work without referencing us as well as include recipes in meal plans to produce entire eating guides for your clients.
Below you can find the PDF file for our Vegetarian Keto Lunch and download it to see the end result by yourself.
How to try it out
You can generate recipes with AI in NutriAdmin with any of our paid plans. You will need to be subscribed to a plan, then add the AI Recipes Add-On.
In terms of pricing, it costs only around USD$0.10 to generate a single recipe approximately, and you can get the add-on for just $2/mo on top of your membership.
We need to charge separately for the use of this feature in order to cover the costs of using OpenAI as an external service. This is why we are offering this feature as an add-on.
Being an add-on, this means that only the users that need this feature have to pay for using it. The pricing is flexible and will scale proportionally to usage. You can click here to learn more.
Once you generate a recipe and save it, you will be able to use it as many times as you want, edit it, add it to meal plans, etc without having to pay anything extra. The cost is applied just once for generating the recipe.
If you are interested in this feature, you can click here to sign up for a free trial or resume your NutriAdmin subscription and try it out! We are excited to see what you create with this powerful new feature.