We are excited to announce that as of today, NutriAdmin supports native telehealth for nutritionists and dietitians. This means you can now have HIPAA-compliant videocalls with clients inside the software!
You can watch the video, or read below for further details.
The way this works is that you can invite your clients/patients to the client portal. This provides your clients with a private account where they can:
Review meal plans you have shared with them
Fill in food diaries online
Complete questionnaires for you
View reports you have shared with them
and from now on, also participate in videochat calls with you
The client portal is currently a web-app, meaning that clients can access it in any web browser. We have plans to also launch a native smartphone app so that clients have the option to log in to the portal via a dedicated app too. We plan to start working on the native app this year.
To start a videocall, all you have to do is click the Start videochat meeting button that will be available at relevant places inside NutriAdmin. You can read below for more information.

An integrated telehealth solution for nutrition professionals
The telehealth add-on is part of the NutriAdmin app and allows you to have a videocall in the browser, without having to open separate software.
We have added videochat buttons in relevant places in the software. For instance, you can now start a videochat session from the client record view for a particular client.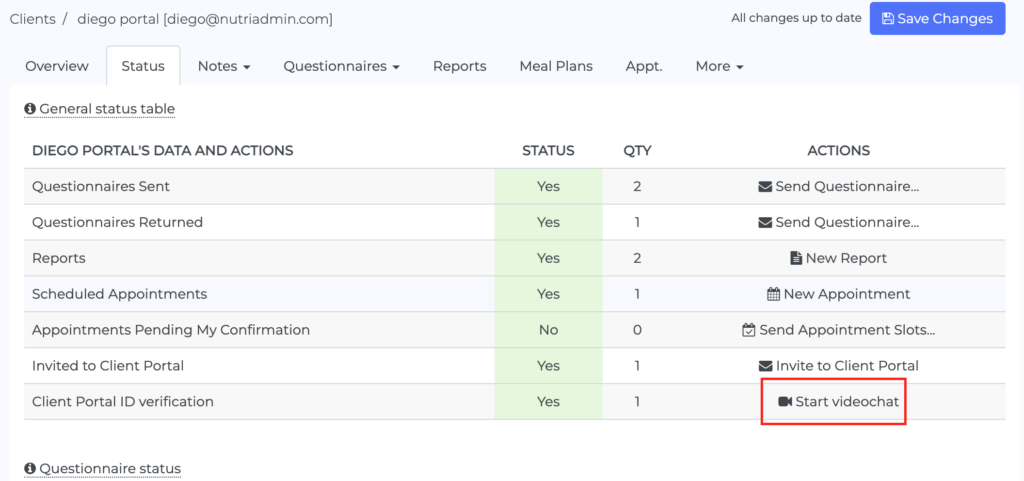 You can also start a videochat call from a calendar event. So, if you check your calendar to see who you have an appointment with today, you can start the call directly from there.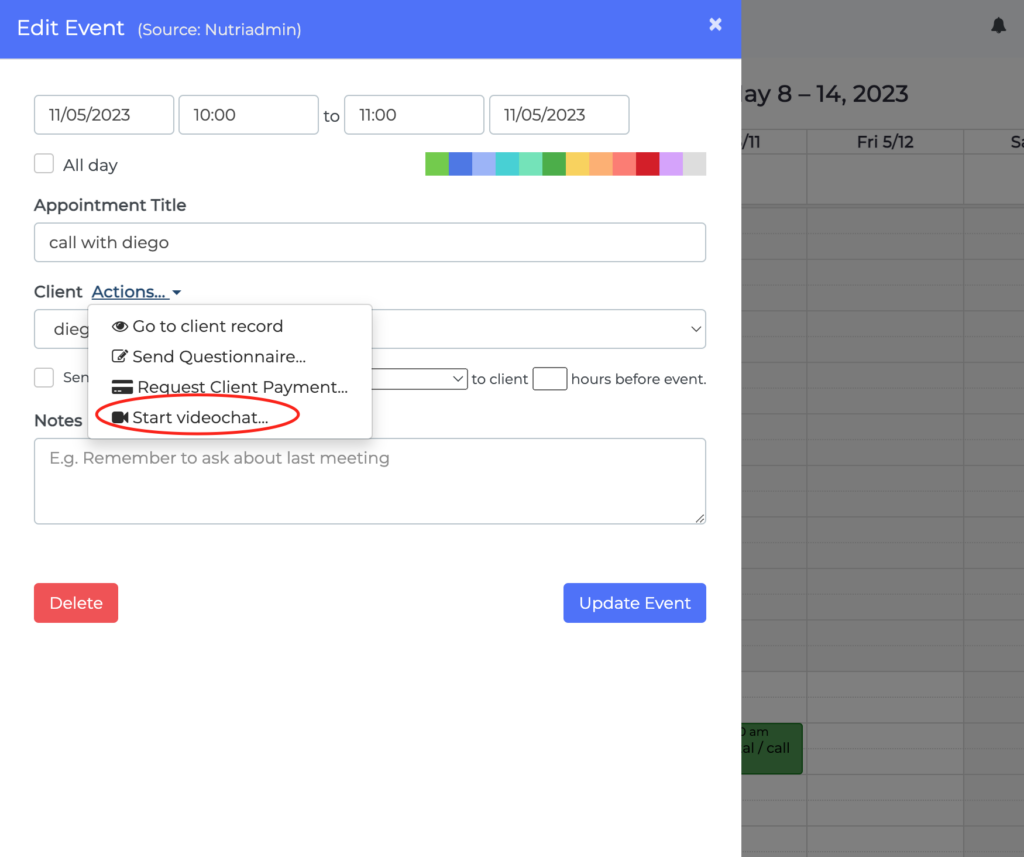 Once you start a videocall with a client, you will have a few familiar options available as features, including:
The ability to share computer screen (so that you can fill in a form with a client for example)
The ability to use a camera, or to have voice-only calls
The ability to invite clients for a videocall session
Recording is not available, but you can use software such as Quicktime (comes bundled with Mac) to record your screen if needed.
We will add improvements and other features to the videochat in the future as needed, today we are just releasing the first version so if you use it and have feedback feel free to reach out!
Secure by design
We use Amazon Web Services (AWS) to provide telehealth via their Chime service. This is a HIPAA-compliant solution, so you can rest assured your data will be secure and private whilst using the service.
Security and privacy are crucial (often a legal requirement depending in your country such as with HIPAA) because nutrition and wellness professionals will often discuss sensitive and private health topics with their clients/patients.
Although you can use many technologies for conducting calls with clients, you must make sure that you are complying with any relevant regulations and security/privacy requirements.
With this solution at NutriAdmin, we take away the hassle from your plate and we offer you a service you can rely on to quickly jump into a consultation with a client online without worrying about security.
In general, we believe at NutriAdmin that your job as a nutrition/fitness professional should be focussed on helping your clients, which is likely your goal.
We want to help you by taking away all the admin, security, paperwork, etc that we can from your plate, so that you can focus on what matters most. Hopefully, this telehealth solution will advance that ethos further.
Pricing
Providing secure videochat capabilites incurs some infrastructure costs, and as such, we thought hard about what would be the best way to bring value to our users, without charging those that don't need this additional feature.
For this reason, telehealth is offered as an optional Add-on at NutriAdmin to any plan. You can purchase a pack of 20-hours of videocalls a month for just $5/month (other currencies and plans available). You can click here to learn more about pricing.
If you are a NutriAdmin user and you wish to be able to have videocalls within the software, with clients logged in to the client portal, then you can subscribe for the telehealth add-on.
Crucially, you only have to pay for telehealth at NutriAdmin if you need it. If you have no need for this feature then you don't have to pay anything extra.
We have designed pricing that essentially covers our costs of providing this extra feature. We haven't added a markup on top, so this should be a really good deal compared to other options.
The cost of $5 can enable you to have up to 20 1-hour consultations, so hopefully you should be able to cover this cost if you are consulting with as many clients.
Alternatives to NutriAdmin telehealth for nutritionists
If you prefer to use a different platform for telehealth that's fine. You can use NutriAdmin for your client records and meal plans, and stick to Zoom, Microsoft Teams, Skype, Google Meet, and others for meetings if you prefer. You can click here to learn how to integrate integrate other platforms with NutriAdmin.
The choice is up to you, but you should consider if you would save time and money with NutriAdmin. Starting at $5/month for the the telehealth add-on, this could be cheaper than alternatives.
Often, popular alternatives for videoconferencing are pricier for their premium plans, such as Zoom (around $16/month at the time of writing this article). There are some free plans out there for videocalls but they may be limited (e.g. meetings up to 40 minutes only).
If you decide to try NutriAdmin's videoconferencing out, you can sign up for a month and upgrade/downgrade/cancel anytime without long-term commitments.
Getting started
If you have never used NutriAdmin, you can sign up for a free trial of the software. Once you are signed up and logged in, you can head to the billing section in the dashboard, and purchase the telehealth Add-On.
To help you get started, you can have the first 3 hours of the telehealth add-on for free, so you can test it out before you decide to buy.
Once you are in the NutriAdmin dashboard, you can click on the Start videochat button available on multiple sections to invite a client to the portal.
We hope you find this new feature useful and would love to hear your feedback.