Today we are extremely excited to bring you a major improvement to the meal planning software feature in NutriAdmin.
We have re-engineered the whole meal plan editor from the ground-up, using new technology. The result is:
Better design that looks more professional
Customizable and beautiful-looking PDF export options for your meal plan
More efficient layout, so that you can achieve more with fewer clicks
More nutrient data and granularity. You can see the right nutrients, at the right time to help you work in the plan
All in all, we are releasing dozens of new features packed inside this update. These include many of the top suggestions amongst our users at NutriAdmin.
Want to watch a video showing you what has changed? You can click below for a demo of all the new features. Alternatively, feel free to scroll down and read below.
An improved meal plan editor layout for productivity
First of all, we have improved the way you add foods to a meal plan. This is one of the most time-consuming tasks, involving querying a database (or multiple) and finding the right items in the right amounts to add to your plan.
We have now added a nutrition search bar, similar to the one we added in a recent recipes editor update. This means, that you can simply type and get real-time suggestions sorted by relevance in each meal plan cell.
The suggestions show you which database they come from (standard, usda, branded, ausnut, uk, custom foods) as well as the calories and macros breakdown in a mini pie chart.
We have also added a quick notes feature for each meal plan cell. This allows you to specify text that your client will see inside the relevant meal plan cell in the table.
For instance, you could add banana, milk, protein powder, and cinammon in a cell, then add a note that says "mix all of these ingredients to make a smoothie".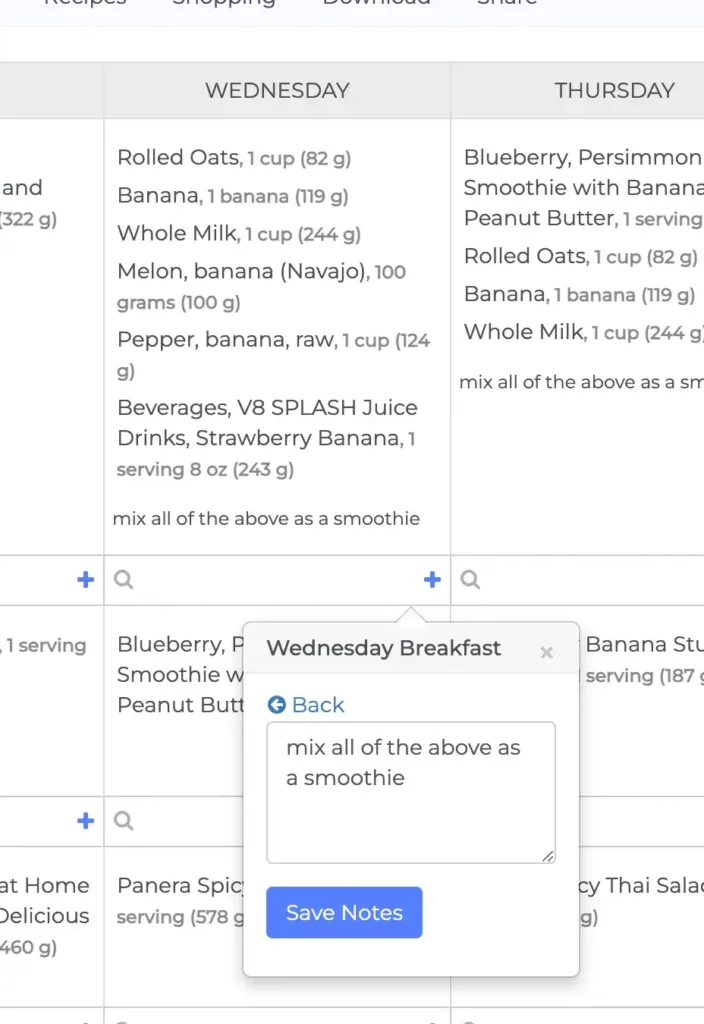 On the other hand, when you want to add something and be precise, we have improved the way you can query the different food databases. Now you can see the energy, macronutrients and other useful details before you add an item to a meal plan.
You can also pin the side window as you add foods to add multiple at once.
Finally, there are other improvements to the interface. You can play around with the software to find out. A favourite of mine is the new ability to copy/paste foods and items multiple times in one go.
Nutrients analysis at every granularity level
You can now see the macronutrients and micronutrients in your meal plan at multiple detail levels:
nutrient totals and average in plan
totals and average per day
nutrients per meal
nutrients per recipe (and per ingredient inside the recipe)
nutrients per food
This means you can use the right level of granularity depending on what you want to accomplish.
For instance, want to make sure your 7-day meal plan has the right level of calories and macros to help a client lose weight? You can check the summary sections and make sure the total calories do not exceed a suitable level.
Want to check that the calories and macros are right for specific days? I.e. maybe there are different requirements for workout and rest days for your client. You can now check the macros and energy summary per day to quickly glance at this information.
What if you find out that some of the ingredients, foods, or portion sizes are wrong? You can quickly edit them and see the change to macronutrients in real time by using the macronutrient breakdown editor. You can even navigate the layout using your keyboard (with the TAB key) for more efficiency!
In terms of micronutrients, want to make sure the meals in your plan meet the relevant DRIs and Tolerable Upper Intake levels? You can check the summary in the plan or the breakdown per day to obtain this information.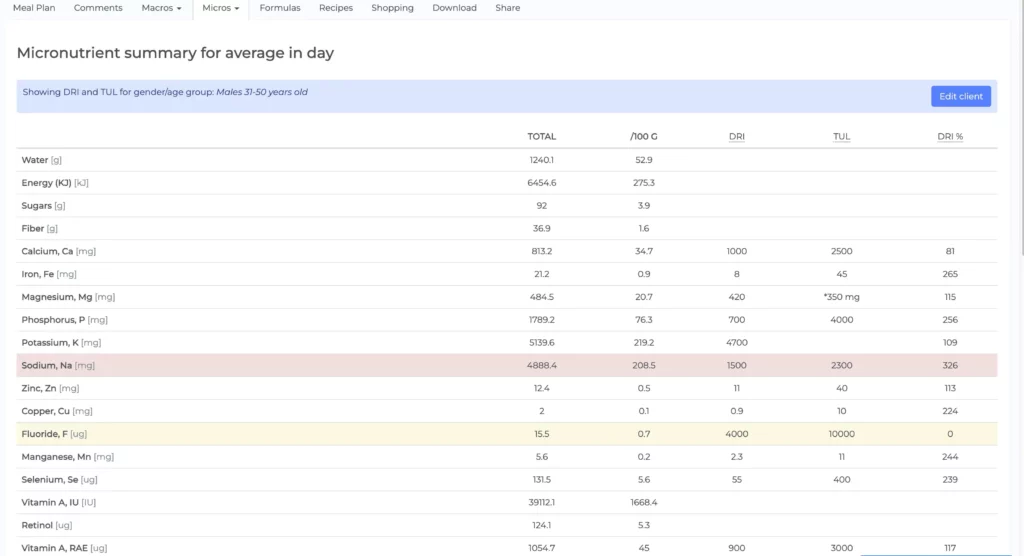 Finally, what if you find out that a particular micronutrient is too high or too low? I.e. maybe your plan has too much Sodium. We have now added an easy way to see which foods contribute which micronutrients.
If you click on the micronutrient breakdown tab, you will be able to see a table that lists all the micros for all the foods in any given day. This should allow you to quickly identify which foods are causing the problem in the plan, and to make suitable adjustments.
Recipes improvements
We have managed to implement one of the all-time top-requested feature amongst our users: the ability to see macronutrients and micronutrients inside a recipe when editing a meal plan.
You can now check the whole analysis for each one of the recipes you add to a meal plan. Furthermore, you can also get this data printed out when you generate a PDF of your plan, which leads us to the best and final new feature!
Customizable professional-looking PDF documents for your meal plan
We have now implemented a new engine to generate PDF files with your meal plans. This is similar to the recipes pdf editor we released a couple of months ago.
You can now fully customize the following in your meal plan export:
which sections to include (e.g. plan, summary, macros, micros, etc)
include macronutrients and micronutrients for your recipes, breakdown or summary (or both) and mix and match
change fonts, colours, spacing, font sizes, margins, table design, images, etc
and more! Check out the screenshot below for a peek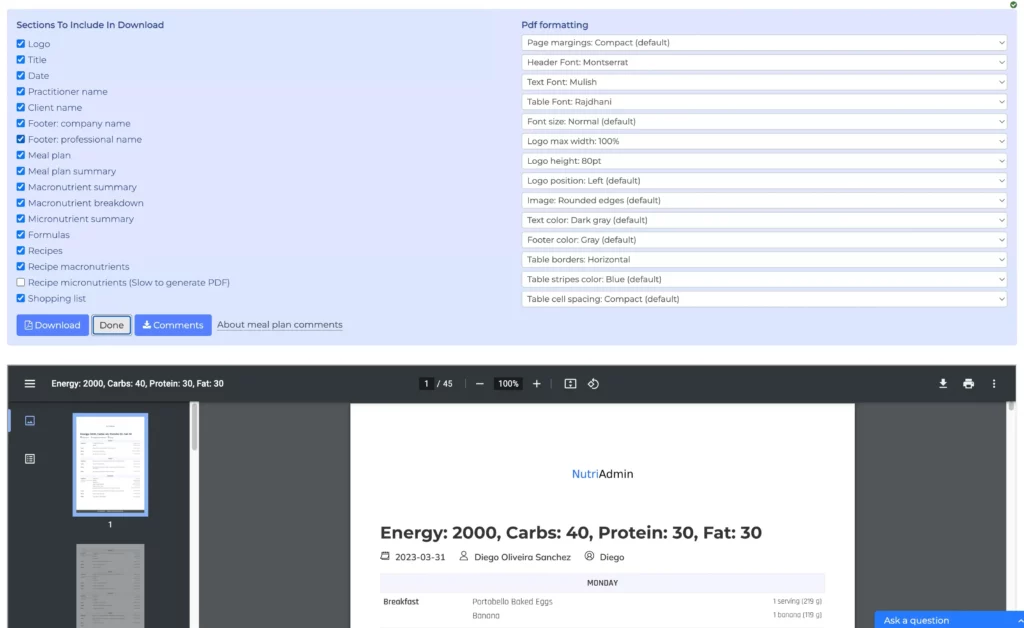 Moreover, as you change your settings, you can see a preview of how the meal plan will look like below. Once you get your pdf customized the way you like it, the settings will be automatically saved so that all your future meal plan PDFs look the same. Keeping all your designs consistent will make your work look more professional and delight your clients.
Want to see an example? Below is how of of the PDF files can look like. You can browse and download it if you want. Take into account that all colours, fonts, etc can be customized, and that the document will include your own branding and no mention to NutriAdmin at all.
Ready to try the new meal plans editor?
Are you excited to try the new meal plans editor? Do you want to be able to create professional, beautifully-designed meal plans for your clients in record time?
You can click here to sign up for a free trial of NutriAdmin and get started.
Do you like this update or have any questions/comments? Feel free to write down below or to message us.
All the best,